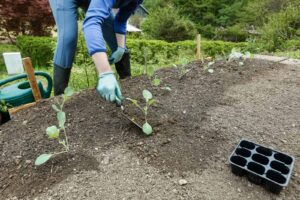 Growing a vegetable garden is not difficult. If you haven't grown a vegetable garden before here are ten things you should know as you prepare for the growing season. If you are an experienced gardener, review these tips and then pass them along to a neighbor or friend.
You can grow vegetables year round no matter where you live. And you can start your growing any time of the year. The articles included in this round-up will help you get growing at whatever level of experience you have.
Here are tips to get your vegetable garden growing.
1. Visit other gardens
Get a good start by visiting nearby vegetable gardens. Make a list of the vegetables you and your family eat. Start growing these crops first. Here's more: How to Start a Vegetable Garden.
2. Know cool and warm season vegetables
There are two basic types of vegetables to grow: cool-season crops and warm-season crops. Cool-season crops are leafy crops for salads and root crops for stews, soups, and munching. Warm-weather crops are fruiting crops—tomatoes, peppers, cucumbers, beans, melons, and squash. You have to plant each crop at the right time of the year. Here's more Cool-Season and Warm-Season Crops and Vegetables in the Right Season.
3. Know your growing season
Know the average date of the last frost in spring and the first frost in autumn. The time in between is the natural growing season. If you grow before the last frost or after the first frost you have to protect most vegetables from the weather. Protecting crops from harmful weather is called season extension—you are extending the natural growing season. You can find the dates of the average first and last frost online—check weather sites, or from the cooperative extension or master gardener group near you. Learn more: Average Date of the Last Frost and Days in the Growing Season.
4. Choose seeds or transplant
There are two ways to start growing your vegetable garden: from seeds or from transplants. Some vegetables are easily started from seeds planted directly in the garden; others are best started indoors under optimal conditions you can't always get outdoors. If you grow from transplants you can start seed in your own kitchen or buy seedlings at the garden center that were started by a grower. More tips on seed starting: Seed-Starting in Three Steps and Seed Starting Schedule for Next Season. Want seed starting tips for specific crops: go to Seed Starting Specific Crops in the Index then scroll down to find the crop you are growing: you will find a seed starting calendar for each crop as well as seed starting tips.
5. Know what each crop needs
Each vegetable crop you grow has preferences—site, sun, soil, planting requirements, watering, and feeding requirements. You can't go wrong if you give vegetables 8 hours of sun each day, grow in compost-rich soil, keep the soil just moist and feed plants organically—more aged compost will do it. Want to know exactly what the crop you are growing needs? Check out the How to Grow profiles in the How to Grow index.
6. Learn about garden soil
True garden wisdom says: Don't plant a 5 dollar plant in 50 cent hole; plant a 50 cent plant in a 5 dollar hole. That means plant in great soil. All of the nutrients and moisture plants require for a generous and flavorful harvest come from the soil. Organic gardeners say: feed the soil, not the plant. If you feed the soil, you will feed the plant. More good soil tips at: Soil: Making the Kitchen Garden and Organic Fertilizers and Soil Amendments.
7. Keep vegetables watered and well-fed
Just about all of the nutrients vegetables require to reach harvest are delivered through the plant's water-conducting capillary system. Plant nutrients come from the soil and are carried throughout the plant by water. Add aged nutrient-rich compost to the soil and the soil will be both well-drained and moisture retentive. Keep nutrient-rich soil moist and you will naturally feed your plants. More tips at: Vegetable Watering Tips and Vegetable Critical Watering Times. Also Fertilizer Side-Dressing Vegetable Crops.
8. Learn about pests and diseases
Into nearly every garden sometimes a pest, disease, or environmental-related problem will venture. Do not panic; it's par for the course and you can often curb pests, diseases, or other problems before they spread from a single plant to the whole garden. If you visit your garden every other day or so, you will be able to nip problems in the bud. Check out the Pests and Diseases topic index (more than 50 helpful articles). See also Common Vegetable Garden Problems: Cures and Controls. And the Vegetable Pest Problem Solver and the Vegetable Disease Problem Solver.
9. Know when to harvest
The most flavorful vegetables are harvested at or before the peak of maturity. When you plant make a note in your calendar of the crop and its days to maturity, also count the days ahead mark the harvest date on your calendar. Harvest when the crop is nearly mature—you will be amazed at the flavor. Want helpful harvest tips for each crop: type in the search box above How to Harvest and Store plus the name of the crop, e.g. How to Harvest and Store Tomatoes. Also check out Vegetable Harvest Times: When to Pick.
10. Learn about extending the growing season
Season extension means growing vegetables outside of the natural growing season. Starting seeds indoors in early spring before the soil and weather are warm is one way to extend the season. Keeping crops growing after the first frost and through the winter is another way. That means you can extend the season both early and late. Season extenders to keep crops warm in chilly weather include row covers, plastic tunnels, and coldframes. Read up on season extension: Vegetables to Seed Start Indoors and Extending the Season How to Get More Time Out of Your Vegetable Garden and Plastic Tunnels for Growing Vegetables. If you live where summer are very hot, you can extend the season with shadecloth: see Hoop Tunnels to Shade Vegetables and Dry Vegetable Gardening.
Want more tips on growing all-year long? Check out the Almanac section in the topics index, look up each month in the index or check out the Vegetable Garden 12 Month To-Do Calendar.