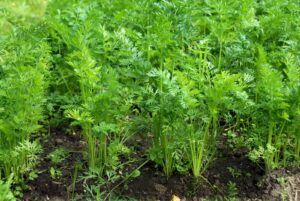 The weather in cool northern regions can remain unsettled even in May. Remember that both the soil and air temperature are important when planting the kitchen garden. Few seeds will germinate if the soil temperature is below 45ºF (7ºC) and warm-weather crops are not going to thrive until the night temperatures consistently stay above 50ºF (10ºC).
By the end of the month–or two to three weeks after your last frost, your kitchen garden will be able to welcome cucumbers, bush and pole beans, and tomatoes. In the meantime you can get these crops going in a greenhouse or coldframe or in the kitchen window. If you get the seedlings growing now, you'll enjoy an earlier harvest next summer.
Strawberries can be planted now. June-bearing-type strawberries are vigorous and spread runners rapidly and should be producing in June. Everbearing-type strawberries will fruit in June and again later in the fall. If you are looking for the easiest to grow, try Alpine strawberries.
Cool-weather crops such as peas (see their blooms above) should be ready for harvest later this month or in June before the weather warms. Keep you eye on cauliflower and Brussels sprouts to get them out of the garden at their peak and before they bolt in warm weather.
Here is a kitchen garden guide for cool regions—growing zones 3-6—for the month of May.
Greenhouse and coldframe. Open the greenhouse and coldframe for warm rain and sun; close them if the temperature drops near freezing. Early in the month, sow under cover half-hardy annual seeds: tomato, eggplant, pepper, and runner beans. Plant greenhouse tomato plants and cucumbers in large pots or grow bags.
Harden off vegetable starts in the cold frame for 10 days before setting them out. By the middle of the month, you can harden off tomato plants and ready them for setting out late in month.
Harvest asparagus and other early crops from the coldframe.
Introduce biological controls to keep down pests such as greenhouse whiteflies and spider mites.
Vegetables early in the month. As soon as the ground can be worked, add soil amendments, humus, and manure to the planting beds if these were not added in the fall. Prepare beds for planting and sowing.
Warm up the soil in cool regions with cloches or black plastic.
When the danger of heavy frost is past, sow or plant out cool-weather crops; harden off young plants from winter sowings of broccoli, cabbage, cauliflower, leeks, onions, lettuce, peas, and broad beans before planting out.
Start sowing vegetables without protection if you live in mild regions. Many seeds can be sown from early spring onwards. Check seed packets as some varieties are more suitable than others for early sowing.
Direct seed broad beans, broccoli, Brussels sprouts, cabbage, carrots, cauliflower, kohlrabi, leeks, lettuce, onions, parsnips, peas, radishes, and spinach. Plant asparagus, rhubarb, and celery. Dig well-rotted manure into celery trenches. Prepare runner-bean trenches by digging in compost or well-rotted manure. Plant early potatoes and onion sets. Use horticultural fleece or cloches for early crops. Thin out overcrowded vegetable seedlings sown earlier: thin beets, carrots, lettuce, radishes, and spinach.
Vegetable starts and transplants. Protect vegetable starts from drying winds and keep them well watered. Shade transplants from direct sun for a week or until re-established outdoors. Mulch when plants are several inches high. Weed and water as needed. Watch for insects and signs of disease.
Succession planting. Make a second sowing of early peas and other crops as the first harvest comes in. Feed lettuce and other early crops with compost tea.
Vegetables late in the month. Plant warm-weather crops and tender herbs when the danger of frost is past and the soil has warmed up and the weather settled. Sow seeds of beans, corn, okra, squash, cucumber, cantaloupe–all tender vegetables—when the weather has warmed into the 70s. Set out plants of tomato, eggplant, pepper, and sweet potato.
Fruits and berries. Plant fruit trees and brambles when soil workable. Paint white or wrap trunks of young trees to prevent sunscald. Water new plantings deeply if the weather is dry. Feed summer-fruiting plants with potassium sulfate to promote good flowering and fruit.
Plant new strawberries, and place cloches over strawberries if you want an early cop. Be sure to cover strawberries if a late frost is possible.
Plant currant bushes and raspberry canes, and water them in thoroughly. Cut the canes down to 12 inches above the ground.
Thin brambles (blackberries, raspberries, loganberries); prune away weak shoots. Prune back the stems of newly planted and two-year-old gooseberries by about one-half. Spray gooseberries and black currants for gooseberry mildew.
Fertilize or top-dress with compost established berries and grapes if not done last month. Feed blackberry and hybrid berry plants with ammonium sulfate. Control weeds around bush and cane fruit.
If fruit trees are still dormant apply dormant spray to apples, pears, and plums.
Thin the fruit on apples, pears, and plums when marble-size. Thin heavy-cropping nectarines and peaches when the fruit is ½ inch (1-1.5 cm) in diameter. Replace mulches removed last month. Prune suckers and water sprouts from trees.
Watch for pests and signs of disease. Trap larvae on trunks of trees and destroy them.
Containers. Check tender container plants moved indoors during winter. When frost danger is past, move containers outdoors again. Plant cool-weather and later warm-weather vegetables in containers when the danger of frost is past. Feed new plants with liquid fertilizer.