Grow an early and late or main crop of celery each growing season. The early crop will be harvested in August; the late crop will be harvested in September or October, before the first fall frost.
Start celery seed indoors. Sow seed for the early or August harvest in February. Set young plants in the garden in May. Sow seed for the main crop or late harvest at the end of March or in April. Set young plants in the garden in June.
Celery grows best in cool weather, so the fall or main crop is often the best. For an early or summer harvest, plant a heat-resistant variety.
Celery seed germination
Celery seed takes about 21 days to germinate. Light helps celery seed germinate; do not plant the seed deeper than ¼ inch. Warm days and cooler nights, also help celery seed germinate. Keep the soil evenly moist during the germination perio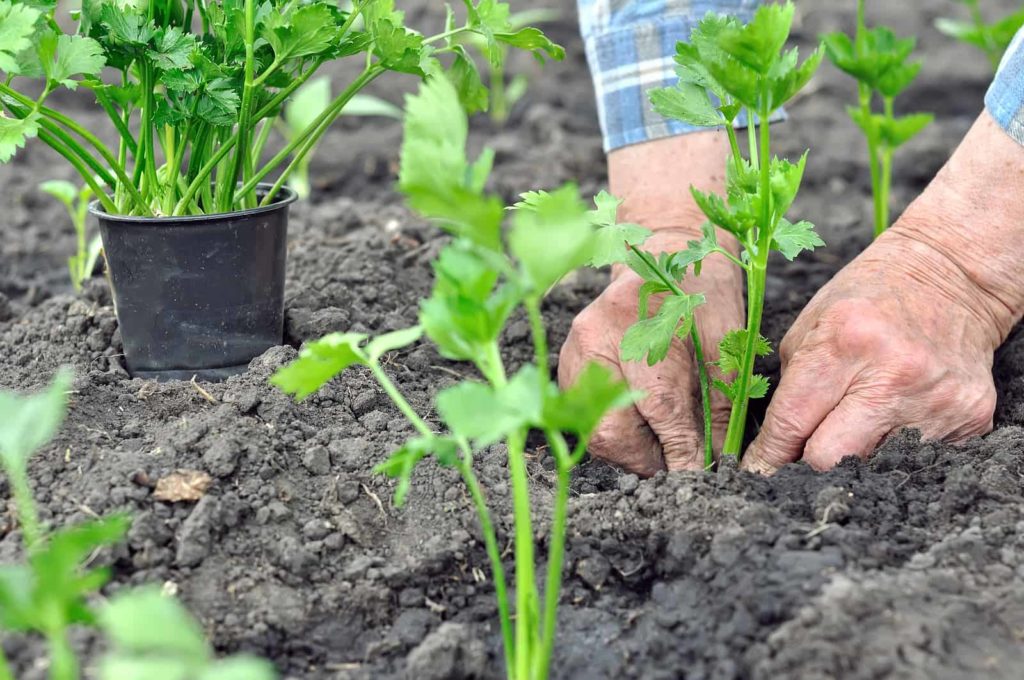 Celery seedling transplanting
Celery plants forms long taproot. If the taproot is broken, the plant will suffer. There are two ways to transplant celery into the garden and avoid injury to the taproot:
Transplant the seedling early when it is just 3 to 5 inches (7-13cm) high, and before a taproot forms.
Transplant the seedling twice: once indoors and secondly into the garden. Sow the seed in a flat; when the seedling is 3 to 5 inches (7-13cm) high, transplant it into individual pot deep enough for a taproot to form, a pot 6 to 10 inches (15-25cm) deep. Grow the plant on indoors. When the weather outdoors is warmer than 50°F (10°C), harden the plant off and then transplant it into the garden being careful not to disturb the taproot.
When transplanting celery to the garden, avoid chilling the plant below 50°F (10°C), or it may bolt to seed.
Celery growing conditions
Celery flavor is affected by growing conditions. Celery likes moist, light, rich soil that is well-drained. It does not like heavy clay, bog, or peat soil. Celery demands plenty of water, but it does not want wet feet.
Celery is a heavy feeder. It like plenty of nitrogen. Add aged compost or well-rotted manure to the planting hole; you can also add bonemeal. Then give celery extra feedings about twice a month.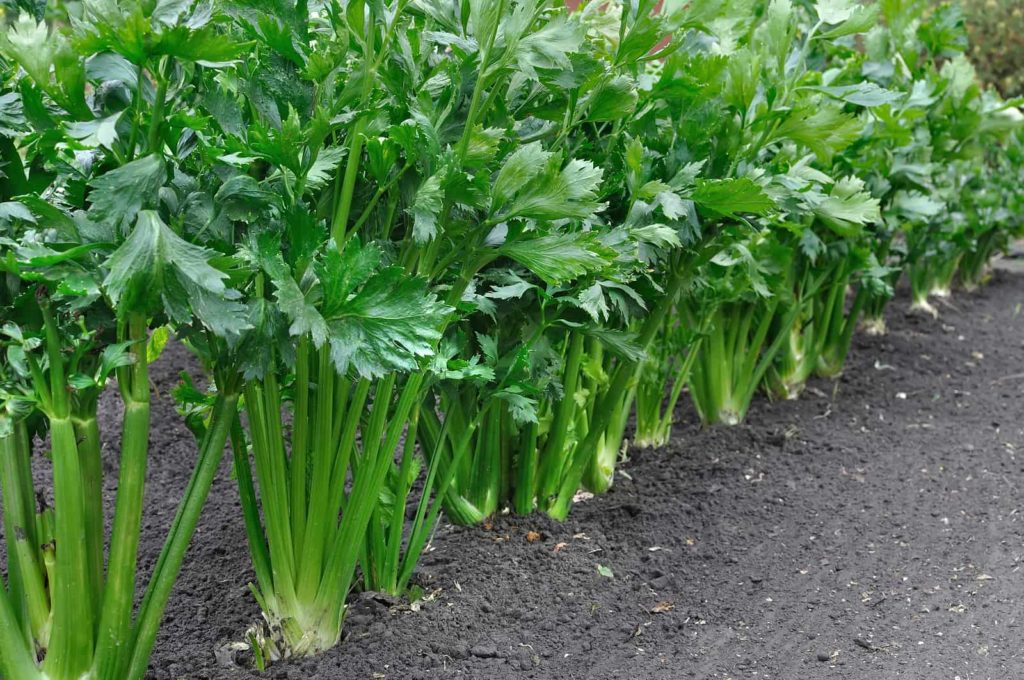 Celery seedling planting dates for summer harvest
(These dates are for the Northern Hemisphere)
| | |
| --- | --- |
| Average date of the last frost | Planting dates |
| Jan. 30 | Jan. 1-Feb. 1 |
| Feb. 8 | Jan. 10-Feb. 10 |
| Feb. 18 | Jan. 20-Feb. 20 |
| Feb. 28 | Feb. 1-Mar. 1 |
| Mar. 10 | Feb. 20-Mar. 20 |
| Mar. 20 | Mar. 1-Apr. 1 |
| Mar. 30 | Mar. 15-Apr. 15 |
| Apr. 10 | Apr. 1-Apr. 20 |
| Apr. 20 | Apr. 10-May 1 |
| Apr. 30 | Apr. 15-May 1 |
| May 10 | Apr. 20-June 15 |
| May 20 | May 10-June 15 |
| May 30 | May 20 -June 1 |
| June 10 | June 1-June 15 |
Celery planting details
Sowing depth: ¼ inch (6mm) or less
Space between plant after thinning: 6-8 inches (15-20cm)
Days to sprout: 21
Days to harvest: 100-140
Storage period: 8-16 weeks
Seeds per 100 row feet: ½ ounce (14 grams)
Yield per 100 row feet: 200 plants
Suggested varieties: Utah 50-70, Utah No. 15, Beacon, Spartan
Related articles of interest: