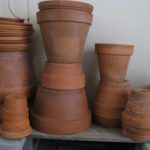 Containers for container gardens can be terracotta, wood, plastic, or metal. Choose the style that best fits your patio, balcony, or roof terrace.
The larger the container the less watering and feeding will be needed since larger containers can hold more soil or potting medium, moisture, and nutrients required by plants. Small pots and window boxes will likely require watering every day in warm and hot regions. Large pots can commonly sustain soil moisture for three or more days.
Containers on wheels will allow you to move plants around to get the best sun or to take advantage of shade in hot weather. Plant caddies come in a variety of styles with wheels and casters rated for the weight they can bear.
Generally uniformity in container look and material will be visually pleasing.
Terracotta and glazed pots and planters are tried and true and have a classic feel. Terracotta is porous and draws moisture from the soil. Glazed pots retain moisture longer. Clay and glazed pots can be heavy and can be difficult to move without breaking once planted. A plant caddy can help you move these containers.
Wooden boxes and half barrels have a rustic appearance. Redwood and cedar containers can withstand moisture and are slow to rot—several years. Wood containers can wick moisture so you will need to pay attention to watering. Placing a plastic liner in your wooden container will slow evaporation and protect the wood.
Galvanized steel has a modern look and resists corrosion. You can find metal buckets and troughs at feed stores and hardware stores. Metal pots retain water well, but they also heat up quickly when exposed to direct sun. Line metal containers with sheet plastic or landscape fabric to keep the metal from over-heating the soil.
Fiberglass and resin pots and planters are lightweight and are often manufactured to look like heavier terracotta or ceramic.
Plastic pots—from the most colorful to basic black nursery pots—are the least expensive, lightweight, durable, and come in many sizes. Plastic pots are ideal if containers need to be moved often. Plastic containers hold moisture and require less watering. In cold-winter regions, you can double pot plastic with a layer of sphagnum moss or newspaper between the pots to provide insulation. In hot-summer regions you can paint the outside of black plastic pots with latex to reflect the sun's heat.
Fiber pots—paper impregnated with binders—are tough, durable, lightweight and very inexpensive. Fiber containers must be well drained and can not sit in saucers of water.
Self-watering containers–planters with built-in reservoirs are a good choice for roof or balcony gardens. Self-watering containers have an upper section for soil and a lower reservoir for water with a wicking system to deliver the water to the soil. These containers eliminate daily watering and are well-suited for thirsty crops such as tomatoes, eggplants, peppers, and squashes.
Window boxes are a good choice where space is limited and narrow. Wooden, terracotta, and plastic window boxes are easy to find. Window boxes require bracket kits to secure them safely to sills and balconies.
Hanging baskets can help you utilize all of your vertical space. Half baskets can fit against walls. Choose hooks and brackets rated for the weight of the planted and watered hanging basket. Keep in mind that hanging baskets because of their exposure to wind and sun will generally dry out quickly.
Grow bags are lightweight flexible fabric bags that can fit into nearly any space. Grow bags commonly lined with plastic and retain moisture. They are easy to move and store once empty. The sides of the bag can be rolled up and down for differing amounts of soil—depending on the crop you are growing.
Wide-bottomed containers and troughs are good choices for balconies and roof gardens because their center of gravity is low and they are less likely to be blown over or scooted around by wind.
Lightweight mini raised-bed can be used on patios, balconies, and roof terraces. They require an underlay of landscape fabric to keep soil and moisture off the surface and should be positioned for optimal drainage.
Good drainage is essential when growing plants in containers. Containers less than 10 inches/25 cm in diameter should have a hole ½ inch/ 1.2 cm in diameter to provide good drainage. Containers greater than 10 inches in diameter need two to four holes.
Soil depth of at least 8 inches/ 20 cm will hold sufficient soil, nutrients, and moisture to support a good yield from almost every vegetable and herb grown in a container. (Expect to water two or three times per week.) Smaller containers holding less soil may require more frequent watering and fertilizing.