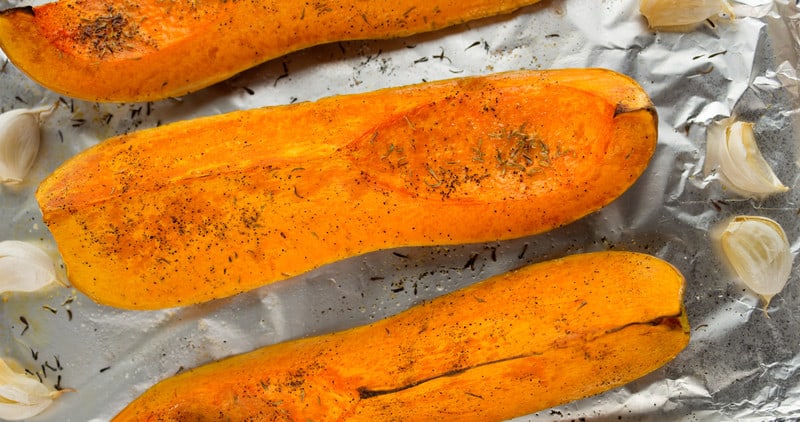 Small winter squashes such as butternut, Delicata, and acorn can be roasted in halves to serve right in the shell.
Preheat the oven to 400°F.
Halve the squash and scoop out the seeds. No need to remove the skin.
Place the halves cut side up on an oiled rimmed baking sheet or shallow roasting pan, drizzle lightly with olive oil and sprinkle with salt. Turn the cut side down and roast about 30 minutes without disturbing.
Turn the squash over and roast until tender, another 20 minutes or so depending on the variety.
After turning the squash cut side up, baste the pieces generously with oil or melted butter every 10 or 15 minutes for added moistness and flavor. Baste with (1) olive oil or butter or (2) equal parts oil and orange juice or (3) two parts oil, one part lemon juice, and sugar or honey to taste.
Add a few dashes of cinnamon, nutmeg, or allspice to the basting mixture if you like.
The skin will be soft after roasting and just fine to eat.
Unpeeled butternut or Delicata squash, once halved and seeded can be cut into long slices and laid on an oiled baking sheet to roast as well.