Rhubarb can be grown from seeds or crowns. Plant rhubarb crowns as soon as the soil can be worked in spring, about 4 to 5 weeks before the last frost. Start rhubarb seeds indoors 5 to 7 weeks before the last frost; transplant seedlings into the garden after the last frost.
Rhubarb crowns can also be planted in autumn before the first freeze. Fall planting is best in mild winter regions.
Rhubarb crowns are portions of rhizomes and buds taken from existing plants. New plants can be propagated by dividing rhizomes and replanting the divisions, called crowns.
Rhubarb planting
Rhubarb is a long-lived perennial that grows large and rangy. It will remain in the garden for many years. Rhubarb should be given a year-round, life-long home in the garden even though the harvest period is just 8 to 10 weeks each year.
Rhubarb grows best where the yearly temperature range is between 35° and 90°F (2°-32°C). When temperatures exceed 90°F (32°C), rhubarb should be protected by a shade cloth.
Rhubarb grows best in humus-rich, well-drained soil. Because rhubarb is a long-lived plant, it is best to prepare the planting site turning the soil to at least 24 inches deep and working in well-rotted manure and aged compost before planting. Also, add bonemeal and granite dust to the planting hole and mix it in thoroughly with the organic matter.
Rhubarb harvest
Begin harvesting rhubarb the second year after planting; take only a few stalks the second year. Full harvesting can begin in the spring of the third year when stalks are 12 to 24 inches (30-61cm) long and leaves are fully developed.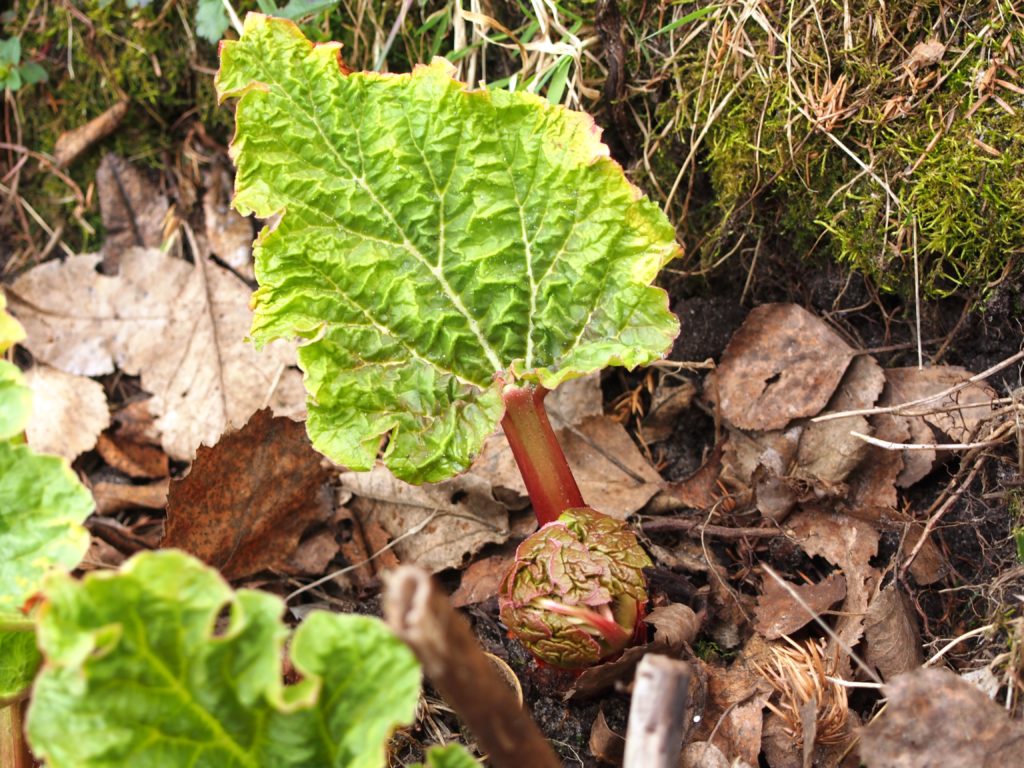 Rhubarb crowns spring planting dates
(These dates are for the Northern Hemisphere)
| | |
| --- | --- |
| The average date of the last frost | Planting dates |
| Jan. 30 | Jan. 1-Feb. 1 |
| Feb. 8 | Jan. 10-Feb. 10 |
| Feb. 18 | Jan. 20-Feb. 20 |
| Feb. 28 | Feb. 1-Mar. 1 |
| Mar. 10 | Feb. 20-Mar. 20 |
| Mar. 20 | Mar. 1-Apr. 1 |
| Mar. 30 | Mar. 15-Apr. 15 |
| Apr. 10 | Apr. 1-Apr. 20 |
| Apr. 20 | Apr. 10-May 1 |
| Apr. 30 | Apr. 15-May 1 |
| May 10 | Apr. 20-June 15 |
| May 20 | May 10-June 15 |
| May 30 | May 20 -June 1 |
| June 10 | June 1-June 15 |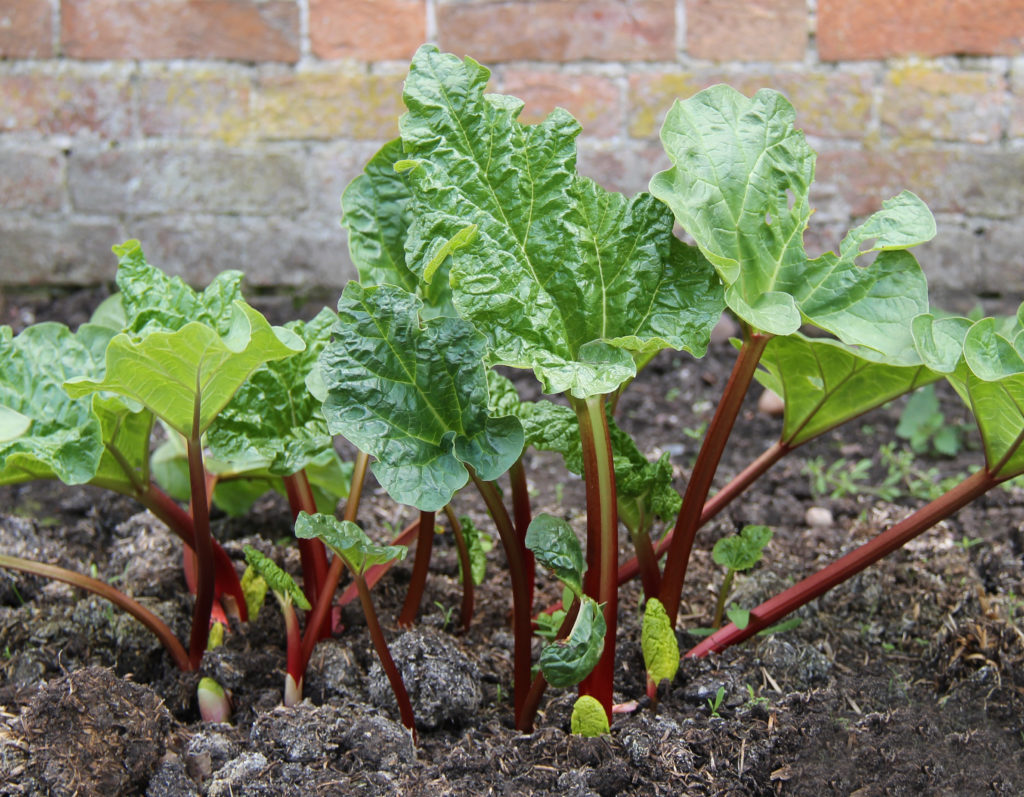 Rhubarb planting details
Crown planting depth: 2-3 inches (5-7.6cm)
Seed sowing depth: 1 inch (2.5cm)
Seed germination: 12 days
Space between plant after thinning: 24-36 inches (61-91cm)
Days to harvest: First harvest 2nd year; best harvest 3rd year after planting
Storage period: 2-3 weeks
Plant per 100 row feet: 35 plants
Yield per 100 row feet: 150 pounds
Suggested varieties: Cherry Re, Chipman's Canada Red, Crimson Red, Valentine, Victoria
More rhubarb planting articles: