Radishes grow best in the cooler time of the year. Most are hardy to spring and autumn chills; a few varieties can withstand the summer heat. Sow seeds for small early varieties 4 to 6 weeks before the last frost. Plant midseason or summer varieties in mid to late spring. Late varieties—called winter radishes—should be sown in the garden 10 weeks before the first expected frost.
Sow successions of early spring varieties 10 days apart until mid to late spring. Sow successions of midseason varieties every 10 days until midsummer. Resume planting for fall harvest in late August or early September.
For best quality and flavor, radishes must make rapid, even growth. Grow radishes in sandy loam or humus-rich, loosely worked soil, and supply ample moisture. If radishes go dry for even a day in warm weather, they will become tough and strong-flavored. Radishes that grow slowly have a pungent flavor and are undesirable.
Radishes remain in prime condition for only a few days, so small plantings at 7 to 10 days intervals are best.
Mild, small, quick-maturing varieties include Scarlet Globe, French Breakfast, and Cherry Belle; these will reach an edible size in 20 to 40 days.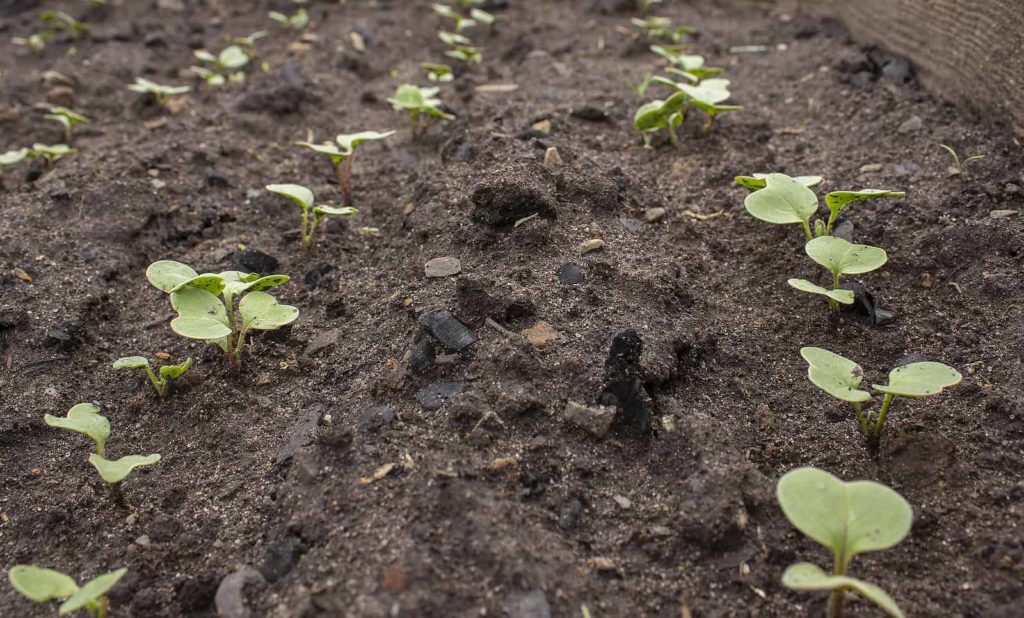 Radish seed sowing dates
(These dates are for the Northern Hemisphere)
| | |
| --- | --- |
| Average date of the last frost | Planting dates |
| Jan. 20 | Jan. 1-Apr. 1 |
| Feb. 8 | Jan. 1-Apr. 1 |
| Feb. 18 | Jan. 1-Apr. 1 |
| Feb. 28 | Jan. 1-Apr. 1 |
| Mar. 10 | Jan. 1-Apr. 15 |
| Mar. 20 | Jan. 20-May 1 |
| Mar. 30 | Feb. 15-May 1 |
| Apr. 10 | Mar. 1-May 1 |
| Apr. 20 | Mar. 10-May 10 |
| Apr. 30 | Mar. 20-May 10 |
| May 10 | Apr.1-June 1 |
| May 20 | Apr. 15-June 15 |
| May 30 | May 1-20 |
| June 10 | May 15-June 1 |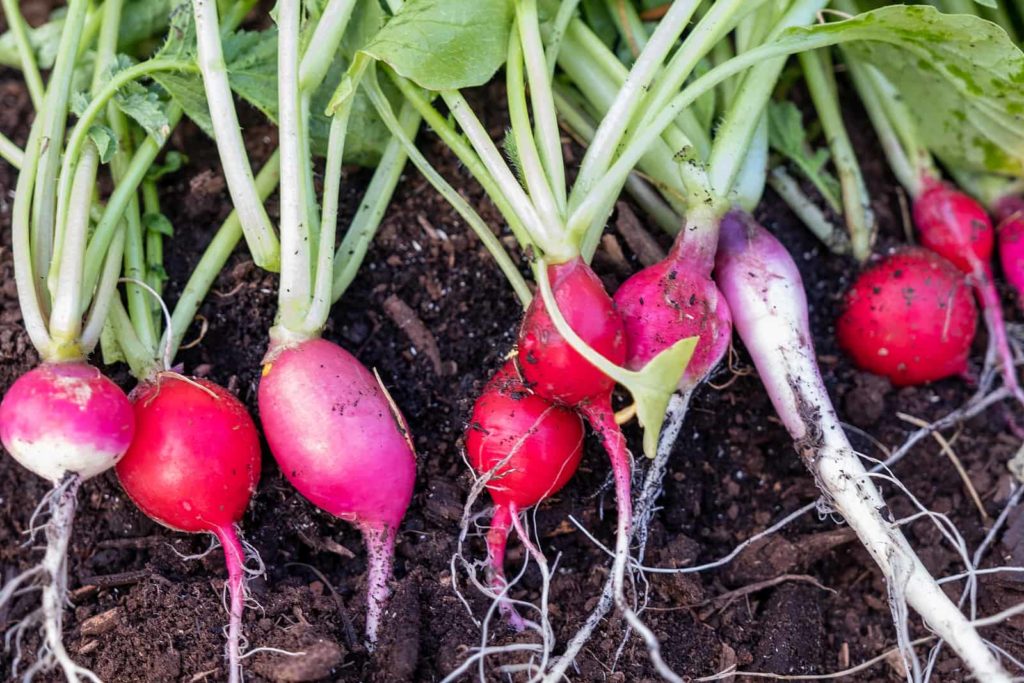 Radish planting details
Sowing depth: Sow seed ½ inch (1.2 cm)
Space between plants after thinning: 1-3 inches (2.5-7.6cm)
Days to sprout: 5
Days to harvest: 21-25
Storage period: 1-2 weeks
Seeds per 100 row feet: 1 ounce (28 grams)
Yield per 100 row feet: 100 pounds (45 kg)
Suggested varieties: Cherry Belle, Scarlet Globe, Red Boy, Champion
Related articles of interest: