Plant seed potatoes 2 to 4 weeks before the last frost. Potatoes develop best in the cool weather of spring. The best tuber formation occurs when the daytime temperature is 60° to 65°F (16°-18°C) and night temperatures are about 10 degrees cooler.
Where winters are mild and summers are hot, potatoes can be planted in late winter or autumn for harvest during cool weather.
Potatoes mature in about 100 days, but you can harvest new potatoes (small tubers) any time they reach usable size, for full-size tubers wait until the foliage dies down around the time of the first frost to harvest. Lift potatoes with a garden fork being careful not to bruise them.
Potato Growing Success Products at Amazon:
Potatoes grow best in loose, humus-rich, well-drained soil. Grow potatoes in full sun. Be sure to keep the soil moist when potatoes flower; that's when tubers develop. As the stems grow, hill up soil around the branches to give tubers room to expand.
Pay attention to the soil pH when growing potatoes. The best pH range for the highest yield is 5.2 to 5.7. A pH above 5.7 will encourage scabs; a pH below 5.2 can reduce the yield.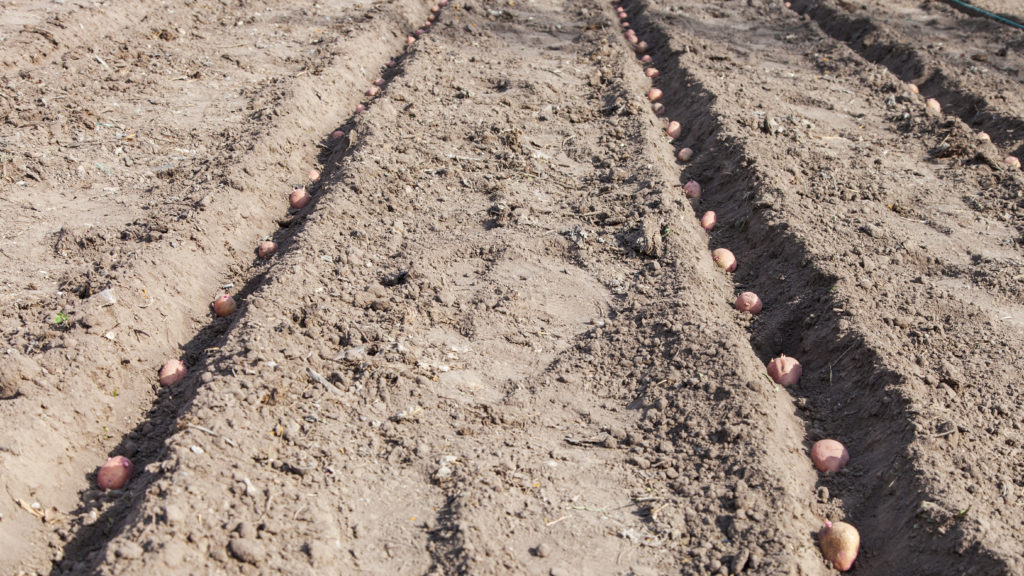 Seed potato planting dates
(These dates are for the Northern Hemisphere)
| | |
| --- | --- |
| Average date of the last frost | Planting dates |
| Jan. 30 | Jan. 1-Feb. 15 |
| Feb. 8 | Jan. 1-Feb. 15 |
| Feb. 18 | Jan. 15-Mar. 1 |
| Feb. 28 | Jan. 15-Mar. 1 |
| Mar. 10 | Feb. 1-Mar. 1 |
| Mar. 20 | Feb. 10-Mar. 15 |
| Mar. 30 | Feb. 20-Mar. 20 |
| Apr. 10 | Mar. 10-Apr. 1 |
| Apr. 20 | Mar. 15-Apr. 10 |
| Apr. 30 | Mar. 20-May 10 |
| May 10 | Apr. 1-June 1 |
| May 20 | Apr. 15-June 15 |
| May 30 | May 1-June 10 |
| June 10 | May 15-June 1 |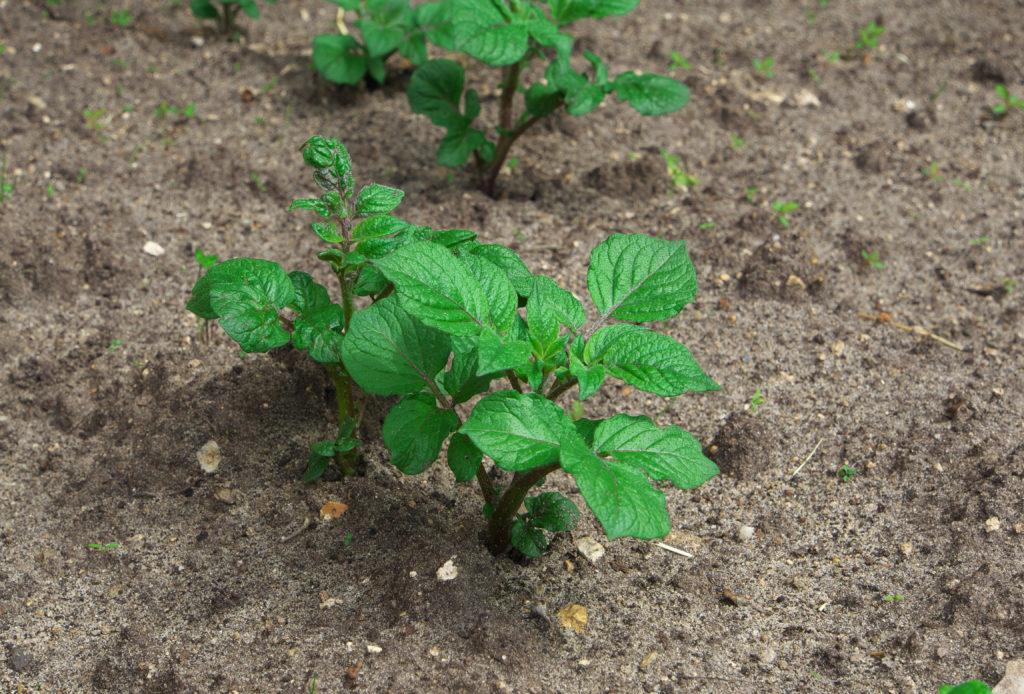 Potato planting details
Sowing depth: 4 to 6 inches (10-15cm)
Space between plant after thinning: 10-12 inches (25-30cm)
Days to sprout: 12-16
Days to harvest: early 80-90; mid-season 90-110; late 110-120
Storage period: 12-24 weeks
Seeds for 100-row feet: 15 pounds
Yield per 100-row feet: 250 pounds
Suggested Varieties: early—Sable, Fundy, Warba, Irish Cobbler; mid-season—Keswick, Cherokee, Avon, Hunter; late—Kennebec, Netted Gem, Green Mountain
More about planting potatoes:
How to Plant, Grow, and Harvest Potatoes
Garden Planning Books at Amazon: