Leeks are generally classified according to their main season of maturity—in other words, how quickly a variety reaches harvest stage. Planting times roughly correspond to harvest times although there is some overlap.
There are early, mid-season, and late-season leeks. Early varieties planted in spring will be ready in summer or autumn; mid-season varieties planted in summer will be ready in fall or early winter, and late-season varieties planted in summer or fall will be ready for harvest in late winter or the following spring.
Earlier varieties are generally taller, paler, and have longer white shafts; they are also less hardy. Later varieties are shorter and broader with less white shaft and often blue-green leaves; they are also hardier.
When to sow leeks seeds
Where the growing season is long, leeks can be sown in the garden but is preferable to start leeks indoors or in a seedbed where the tiny seedlings do not have to compete with weeds.
Early varieties are best started indoors in late winter or early spring; they should be hardened off before transplanting to the garden.
Mid-season varieties can be started indoors or outdoors in early to mid-spring. If sown outdoors, protect them with cloches.
Late-season varieties can be started indoors or outdoors in late spring.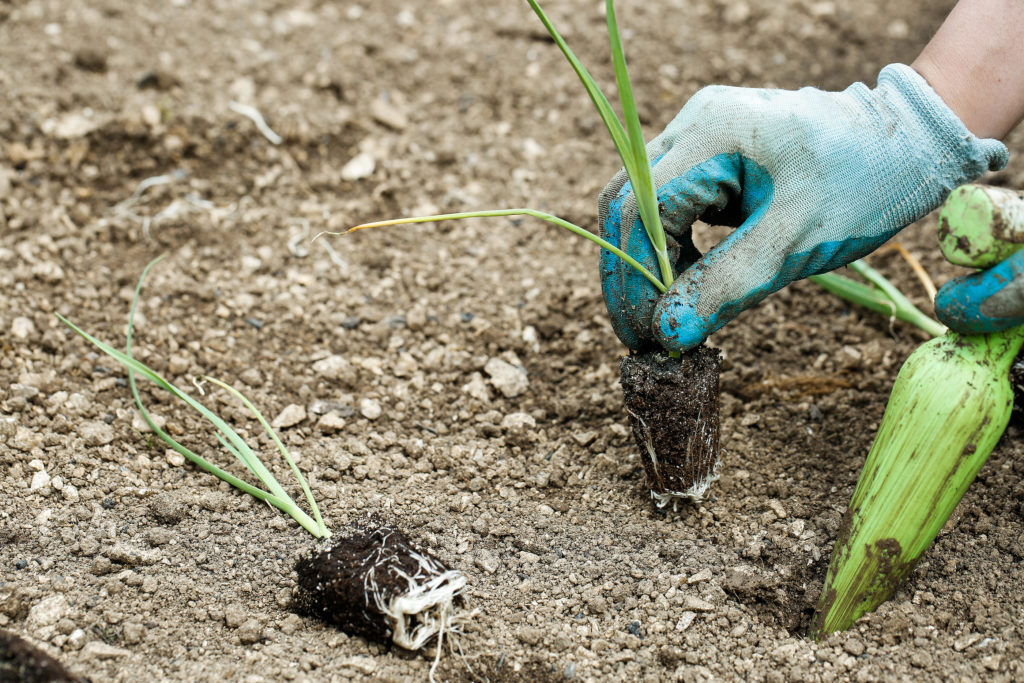 When to transplant leeks
Transplant leeks to the garden 10 to 15 weeks after sowing when they are about 8 inches (20cm) tall.
Leek size is influenced by spacing. For large plants, space plants 9 inches (23cm) apart. For slimmer leeks, space plant 12 inches (30cm) apart.
Planting leeks
Leeks can be planted on the flat—flat soil, but they are most often planted in holes that allow for blanching of the stems.
Make a hole 6 to 8 inches (15-20cm) deep with a dibble. Place the leek in the hole and water. Allow earth to fall into the hole naturally over time; the soil will blanch the stem in due course.
An alternate method is to create a shallow V-shaped trench about 4 inches (10cm) wide at the bottom; plant the seedlings and then gradually fill the trench with soil to blanch the shafts.
Leeks can adapt to a wide range of soils but do best in humus-rich, well-drained soil. Leeks prefer full sun but will tolerate partial shade.
Begin to harvest leeks when they are useable in size. A layer of mulch will keep leeks in good condition if they are to remain in the garden for winter harvest.
Leeks seed sowing dates
(These dates are for the Northern Hemisphere)
| | |
| --- | --- |
| Average date of the last frost | Planting dates |
| Jan. 20 | Jan. 1-Feb. 1 |
| Feb. 8 | Jan. 1-Feb. 1 |
| Feb. 18 | Jan. 1-Feb. 15 |
| Feb. 28 | Jan. 15-Feb. 15 |
| Mar. 10 | Jan. 25-Mar. 1 |
| Mar. 20 | Feb. 1-Mar. 1 |
| Mar. 30 | Feb. 15-Mar. 15 |
| Apr. 10 | Mar. 1-Apr. 1 |
| Apr. 20 | Mar. 15-Apr. 15 |
| Apr. 30 | Apr. 1-May 1 |
| May 10 | Apr. 15-May 15 |
| May 20 | May 1-May 20 |
| May 30 | May 1-15 |
| June 10 | May 1-15 |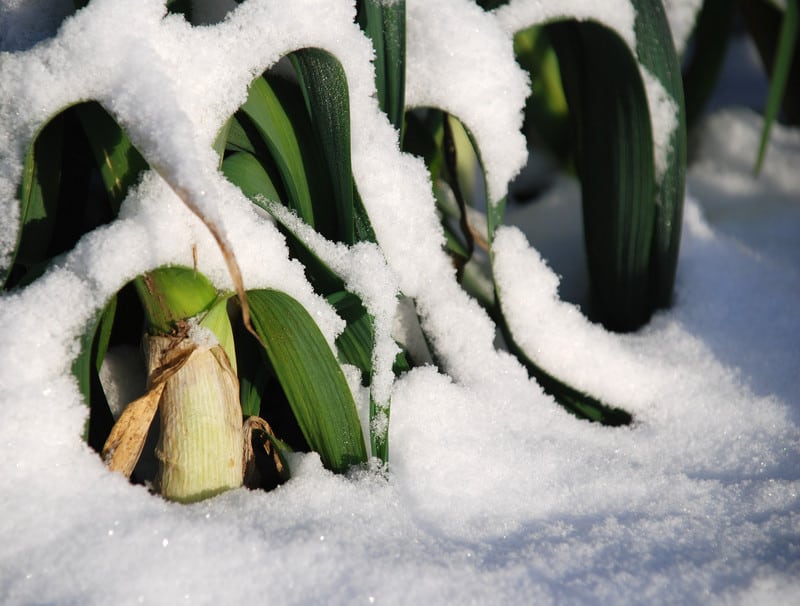 Leeks planting details
Sowing depth: ½ inch (1.2 cm)
Space between plant after thinning: 3-4 inches (7.6-10cm)
Days to sprout: 10-14
Days to harvest: 75-190
Storage period: 12-32 weeks
Seeds per 100 row feet: ½ ounce (14 grams)
Yield per 100 row feet: 100 pounds (45 kilos)
Suggested varieties: Early: Carlton, King Richard; Mid: Mammoth, Neptune Late: Inverno, Electra
Related articles of interest:
Growing Leeks Year-Round in Tubes