Sow garden peas in the garden not later than two to three weeks before the average last frost date. If you wait, the yield will be small and will likely not justify the space they need in the garden.
Young garden pea plants grow best at 59℉ to 68℉ (15℃-20℃). If you can't plant early, plant 'Wando' which can tolerate some warm weather late in spring. (For fall peas, plant in late July or early August.)
Peas can be planted as early as the spring thaw; they can sprout at temperatures as low as 40℉ (4℃).
Shake some garden legume inoculant on the moistened seeds before planting. Plant pole peas thickly, about 1 or 2 inches (2.5-5cm) apart, and cover the seeds with 1 inch (2.5cm) or slightly more of soil. Double rows spaced 4 to 6 inches (10-15cm) apart is a more efficient use of space than single rows. Bush peas can be planted 6 inches (15cm) apart. Wide rows up to 3 feet (1m) across are the most efficient.
Thin peas to stand 2 inches (5cm) or so apart; crowding will not reduce the yield.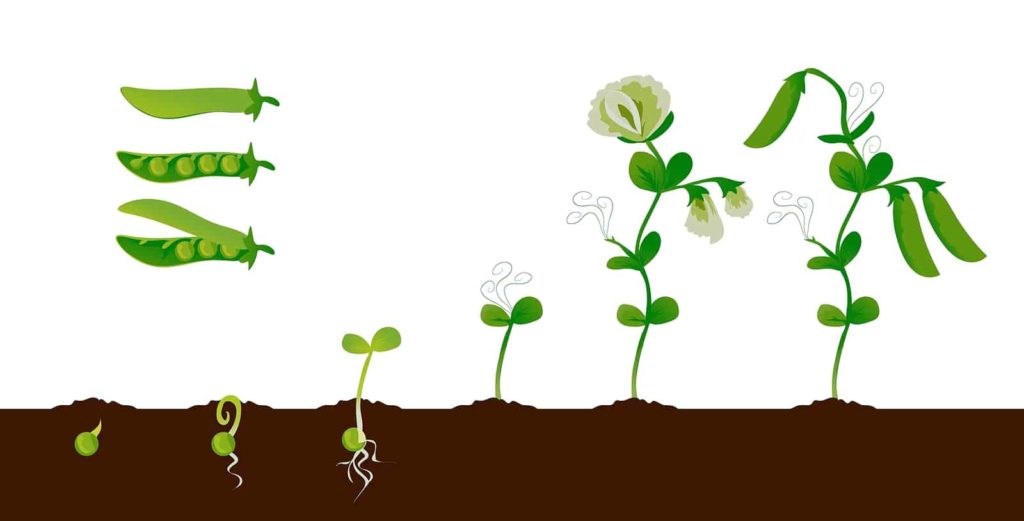 Peas planting dates late spring harvest
(These dates are for the Northern Hemisphere)
| | |
| --- | --- |
| Average date of the last frost | Planting dates |
| Jan. 30 | Jan. 1-Feb.15 |
| Feb. 8 | Jan. 1-Feb.15 |
| Feb. 18 | Jan. 1-Mar. 1 |
| Feb. 28 | Jan. 15-Mar. 1 |
| Mar. 10 | Jan. 15-Mar. 15 |
| Mar. 20 | Feb. 1-Mar. 15 |
| Mar. 30 | Feb. 10-Mar. 20 |
| Apr. 10 | Feb. 20-Mar. 20 |
| Apr. 20 | Mar. 10-Apr. 10 |
| Apr. 30 | Mar. 20-May 1 |
| May 10 | Apr. 1-May 15 |
| May 20 | Apr. 15-June 1 |
| May 30 | May 1-June 15 |
| June 10 | May 10. June 15 |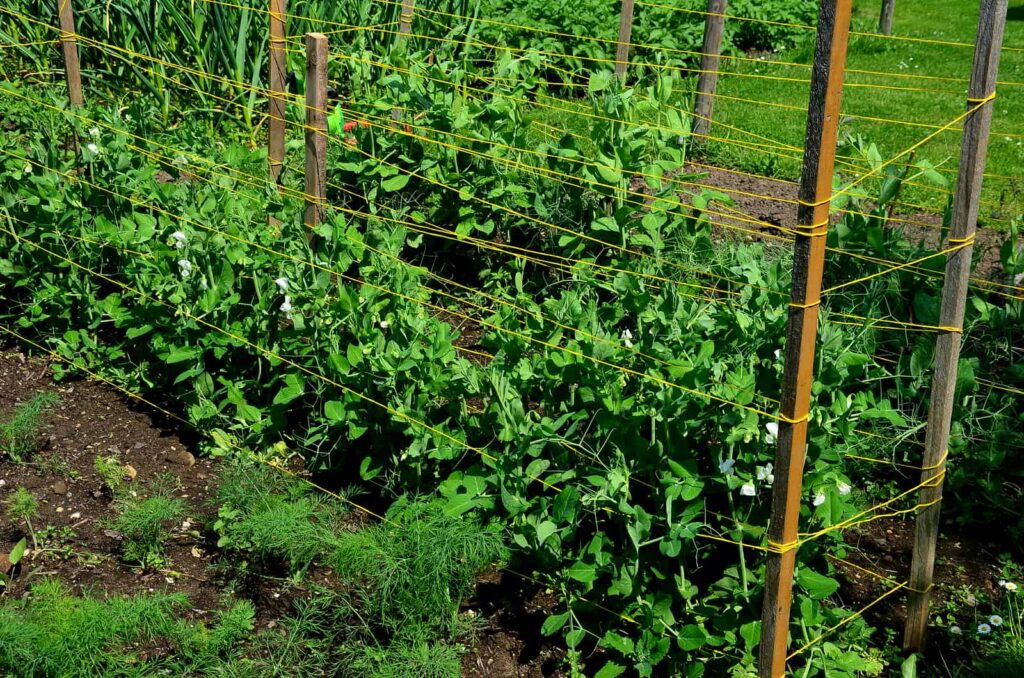 Peas planting details
Sowing depth: 1-2 inches (2.5-5cm)
Space between plant after thinning: 1-3 inches (2.5-7cm)
Days to sprout: 8
Days to harvest: 60-80
Storage period: 1-2 weeks
Seeds per 100 row feet: 1 pound (.5 kg)
Yield per 100 row feet: 40 (18 kg)
Suggested varieties: Bush: Laxton's Progress, Little Marvel, Wando; pole: Tall Telephone; freezing: Frostie; canning, Pride, Perfection
Related articles of interest:
Pea Growing Problems: Troubleshooting