Celeriac is a firm, crisp root vegetable that can be started from seed indoors 4 to 8 weeks before the last frost in spring. Set seedlings in the garden after the last frost. Like celery, celeriac seedlings are likely to bolt if exposed to low temperatures in the 30's and 40's for more than a week or two.
Celeriac seed can be slow to germinate. Fold seeds into a damp paper towel and place in a plastic bag for a few days at room temperature until they sprout then transplant them to a flat with moistened seed mix. Grow the seedlings on at room temperature.
Grow celeriac in well-worked, humus-rich, well-drained soil. Once established, celeriac can withstand frost; it can also tolerate summer heat.
Water regularly when growing celeriac; keep the soil evenly moist or the roots will dry out and become tough.
Celeriac roots can be braised and blanched until just tender-crisp; they can also be boiled and mashed. Raw celeriac root can be grated for salads. The leaves and stalks are strong, bitter flavored, and tough, basically inedible.
Celeriac is also known as celery root.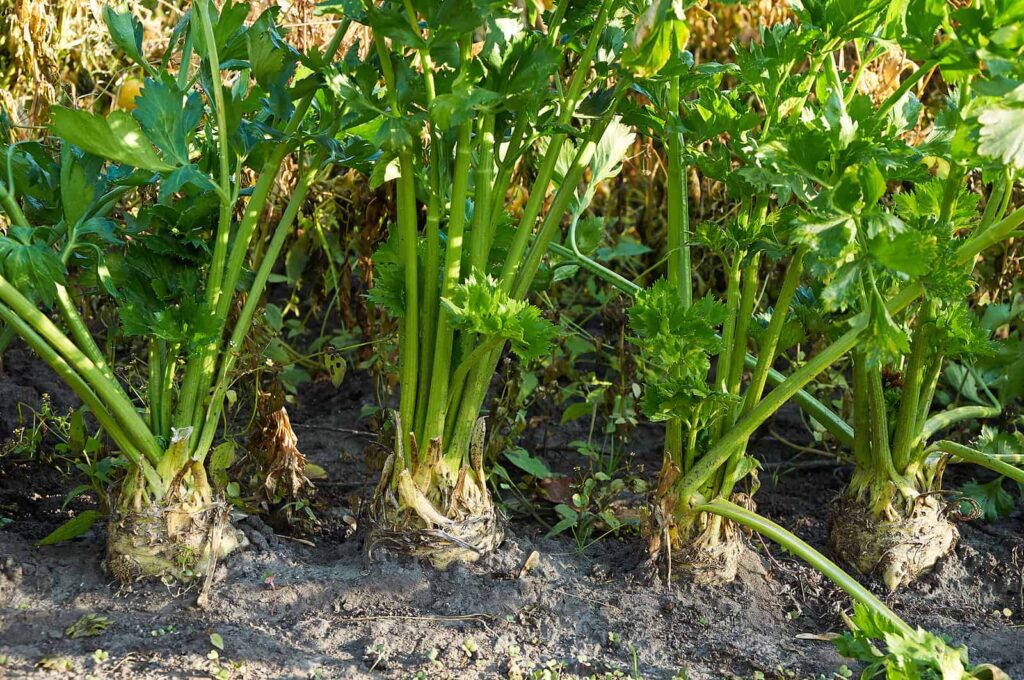 Celery seed starting dates
(These dates are for the Northern Hemisphere)
| | |
| --- | --- |
| Average date of the last frost | Planting dates |
| Jan. 30 | Jan. 1-Feb. 1 |
| Feb. 8 | Jan. 10-Feb. 10 |
| Feb. 18 | Jan. 20-Feb. 20 |
| Feb. 28 | Feb. 1-Mar. 1 |
| Mar. 10 | Feb. 20-Mar. 20 |
| Mar. 20 | Mar. 1-Apr. 1 |
| Mar. 30 | Mar. 15-Apr. 15 |
| Apr. 10 | Apr. 1-Apr. 20 |
| Apr. 20 | Apr. 10-May 1 |
| Apr. 30 | Apr. 15-May 1 |
| May 10 | Apr. 20-June 15 |
| May 20 | May 10-June 15 |
| May 30 | May 20 -June 1 |
| June 10 | June 1-June 15 |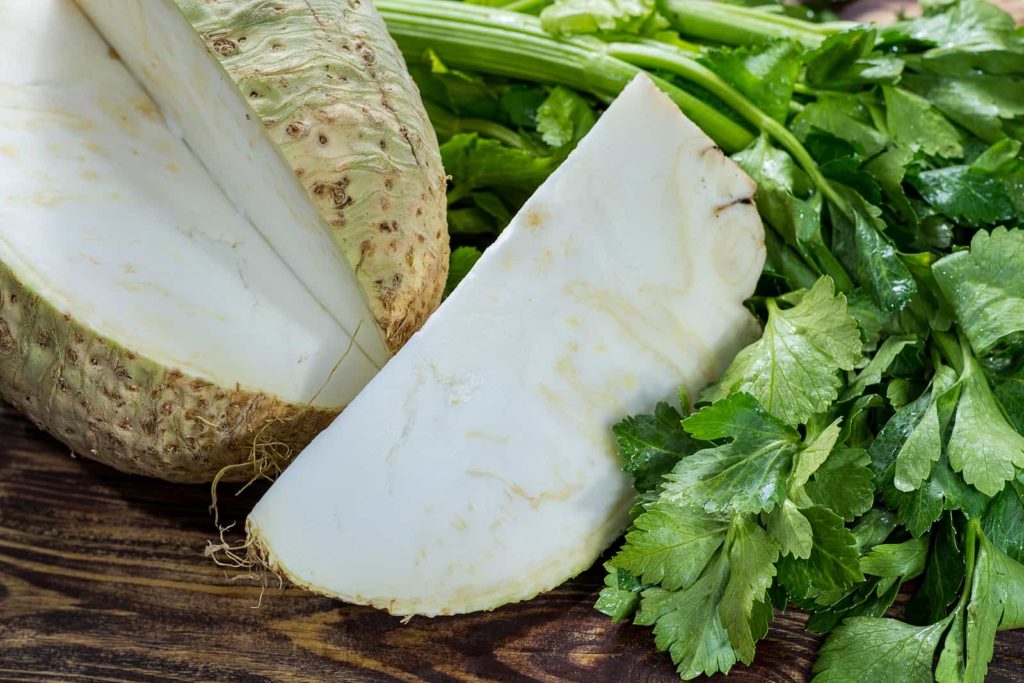 Celery planting details
Sowing depth: 1/2 inch (12mm) or less
Space between plant after thinning: 6-8 inches (cm)
Days to sprout: 21; pre-sprout by placing seeds in damp paper towel at room temperature for a few days
Days to harvest: 100
Storage period: 6 months
Seeds per 100 row feet: ½ ounce
Yield per 100 row feet: 200 plants
Suggested varieties: Brilliant, Large Smooth Prague, Jose, Alabaster
Related celeriac planting and growing articles:
How to Cook and Serve Celeriac