Carrots are commonly grown in spring, fall, and winter in warm-winter regions. Carrots can be grown through the summer in mild to cool summer regions and surplus can be stored for winter.
Carrots may be seeded as early in spring as the ground can be worked. Make successive sowings of carrots at intervals of about 3 weeks in order to have a continuous supply of tender carrots throughout the season.
Carrots will grow on almost any type of soil as long as it is moist, humus-rich, loose, and free from clods and stones. Sandy loams and peats are the best.
Cover carrot seed about ½ inch on moist soils; less, usually about ¼ inch, on heavy soils.
With care in seeding, carrots will require little thinning. Carrots can stand some crowding, especially in loose soils. However, carrots should grow no thicker than 10 to 15 plants per foot of row.
Standard carrots are Chantenay, Nantes, and Imperator.
Carrots should be harvested and stored before the first hard frost occurs; the roots may be injured by cold.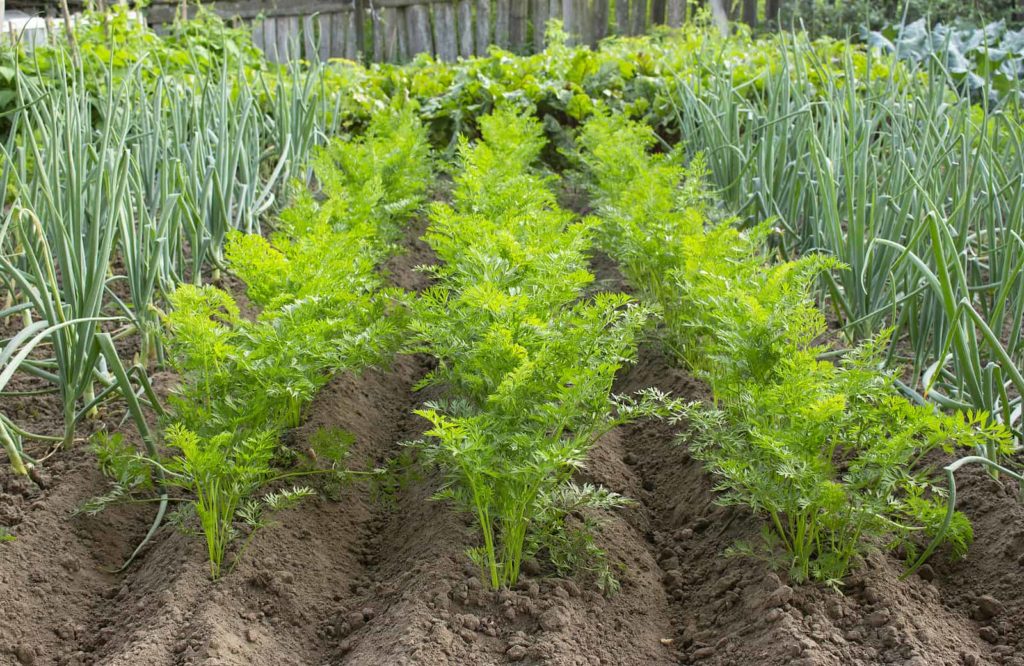 Planting dates for spring and summer harvest
(These dates are for the Northern Hemisphere)
| | |
| --- | --- |
| Average date of the last frost | Planting dates |
| Jan. 30 | Jan. 1-Mar.1 |
| Feb. 8 | Jan. 1-Mar.1 |
| Feb. 18 | Jan. 15-Mar.1 |
| Feb. 28 | Feb. 1-Mar. 1 |
| Mar. 10 | Feb. 10-Mar. 15 |
| Mar. 20 | Feb. 15-Mar. 20 |
| Mar. 30 | Mar. 1-Apr. 10 |
| Apr. 10 | Mar. 10-Apr. 20 |
| Apr. 20 | Apr. 1- May 15 |
| Apr. 30 | Apr. 10-June 1 |
| May 10 | Apr. 20-June 15 |
| May 20 | May 1-June 1 |
| May 30 | May 1-June 1 |
| June 10 | May 10-June 1 |
| June 10 | May 20-June 1 |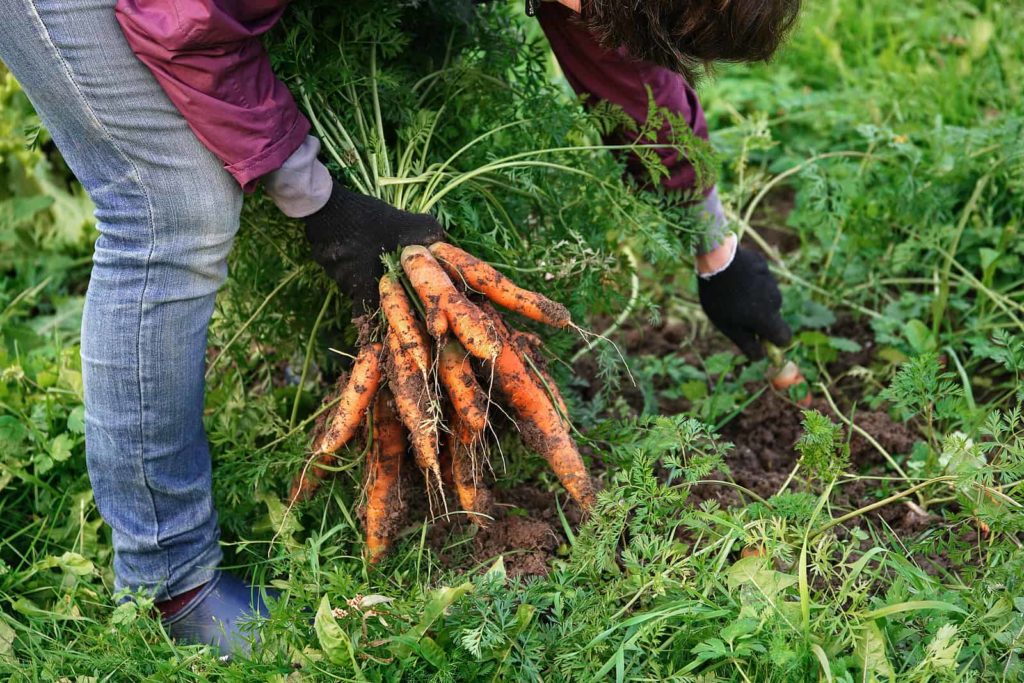 Carrot planting details
Sowing depth: ¼ -½ inch (.6-1.2cm)
Space between plant after thinning: 1-3 inches (2.5-7cm)
Days to sprout: 12
Days to harvest: 70-85
Storage period: 2-3 weeks
Seeds per 100 row feet: ½ ounce (14g)
Yield per 100 row feet: 100 pounds (45 kilos)
Suggested Varieties: Chantenay, Nantes, Imperator, Touchon
Notes: Store where not too dry
Also of interest:
How to Grow Carrots Any Time of the Year in 5 Steps