Asparagus can be started from seeds or crowns. Plants grown from seed commonly produce a larger number of slightly bigger and more tender spears.
Set out seedlings 12-inch seedlings 4 weeks after the last frost. Sow seeds indoors 12 to 14 weeks before planting out. Soak seeds overnight in tepid water to improve germination.
Plant crowns 2 to 4 weeks after the date of the average last frost. Plant the largest one-year-old crowns you can find.
Set seedlings and crowns in trenches 6 to 10 inches deep. Cover crowns with 2 inches of soil; mound soil around the base of seedlings. As shoots grow, add soil until the trench is filled to ground level.
Asparagus is a long-lived plant; it can produce spears for 15 to 25 years. Plant asparagus in a bed you can dedicate to their growth for several years.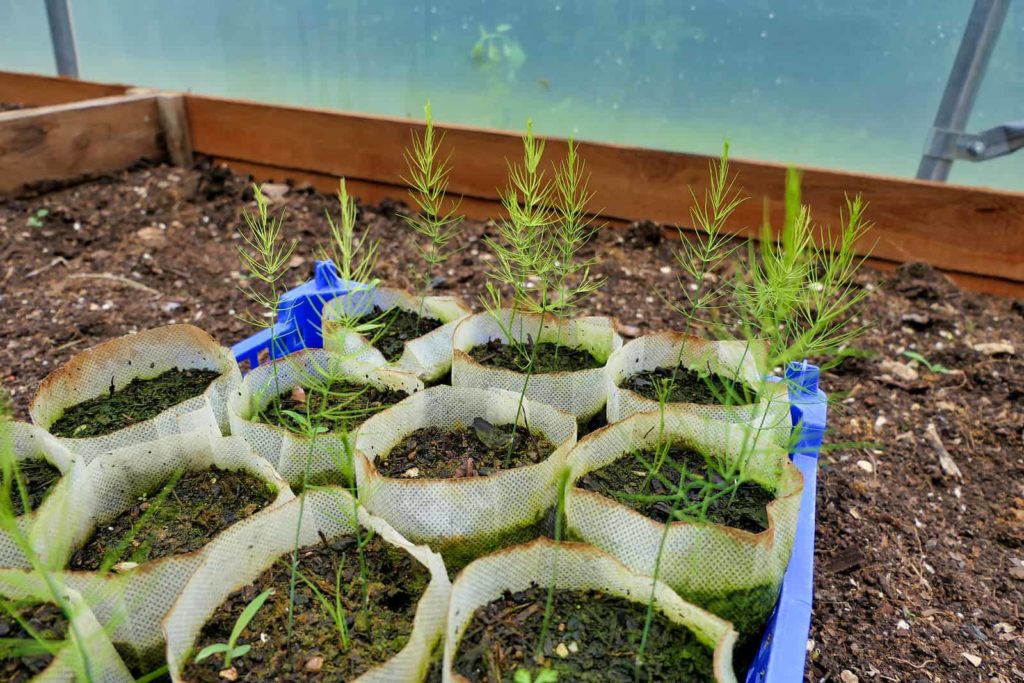 Asparagus seedling transplant dates*
* Sow seeds indoors 12-14 weeks before planting out
(These dates are for the Northern Hemisphere)
| | |
| --- | --- |
| Average date of the last frost | Planting dates |
| Jan. 20 | |
| Feb. 8 | |
| Feb. 18 | |
| Feb. 28 | |
| Mar. 10 | Jan. 1-Mar. 1 |
| Mar. 20 | Feb. 1-Mar. 10 |
| Mar. 30 | Feb. 15-Mar. 20 |
| Apr. 10 | Mar. 10-Apr. 10 |
| Apr. 20 | Mar. 15-Apr. 15 |
| Apr. 30 | Mar. 20-Apr. 20 |
| May 10 | Mar. 30-Apr. 30 |
| May 20 | Apr. 20-May 15 |
| May 30 | May 1-June 1 |
| June 10 | May 15-June 1 |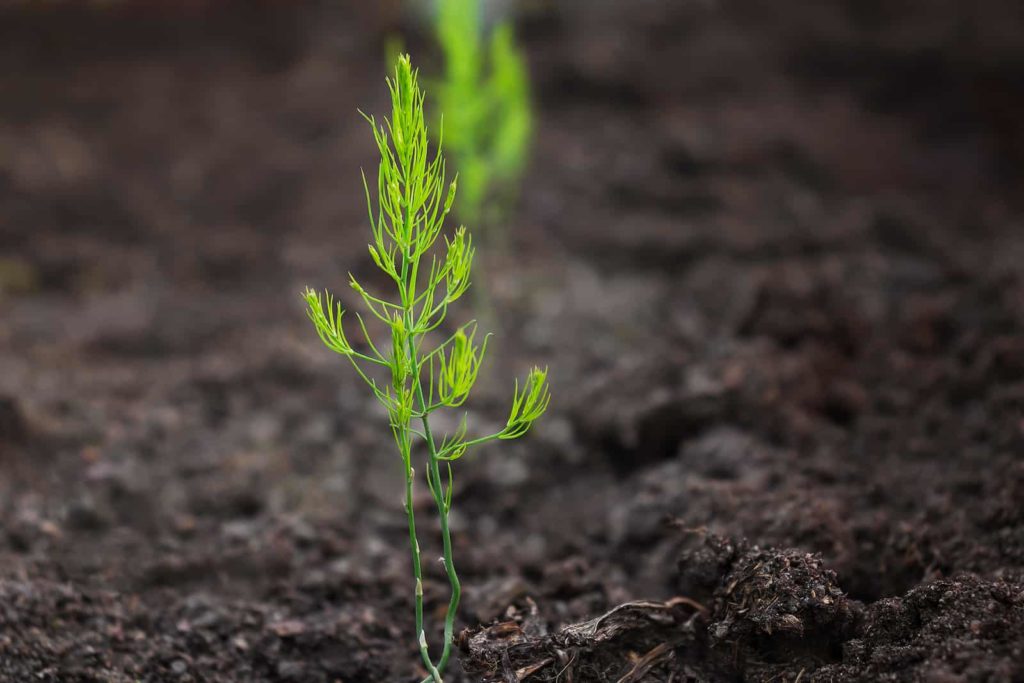 Asparagus planting details
Sowing depth: ½ inch (1.2 cm)
Space between plants after thinning: 12-18 inches (30-45cm)
Days to sprout: 7-14
Days to harvest: 3 years
Storage period: 3-4 weeks
Seeds per 100 row feet: 1 ounce (14 grams)
Yield per 100 row feet: 30 pounds
Suggested varieties: Viking, Waltham, Washington
Related articles of interest: