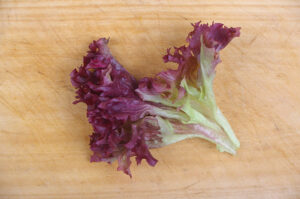 There's a reason they call it butter lettuce: it melts in your mouth. Butter lettuce is buttery and tender from the first bite.
Serve red butter lettuce alone or as a colorful addition to salad greens. Red butter lettuce is a good match to light vinaigrette or lemon and oil mix. It is a colorful addition to salad greens and as a base for sliced fruits or cottage cheese.
Yes, it melts in your mouth, but how will it taste? Try this: scratch a leaf stalk; if it smells sweet, it will taste sweet; if it smells bitter, it will have a bit of a bite.
Butter lettuce heads are loose and the leaves are wavy. A butter lettuce head looks something like an open rose; you can see to its center or heart. The heart of a butter lettuce rosette will be just as tasty as its surrounding leaves. A head of butter lettuce that is not loose will be less tasty.
Serve. Butter lettuce is usually eaten raw but can also be cooked. Add butter lettuce in the last minute to peas that have been pan steamed for a few minutes more.
Butter lettuce can be braised and added to soups as flavoring. Add shredded lettuce at the end of cooking; the heat of the broth will cook the lettuce.
Serve butter lettuce with an oil and vinegar dressing, chopped walnuts, crumbled Feta cheese and seedless grapes.
Other butter lettuce flavor partners incude anchoives, cucumber, fresh herbs, lemon, mustard, raw onion, tart fruits, tomato and vinaigrette, goat cheese, and ricotta or cottage cheese.
Choose.  Butter lettuce should have unbroken leaves with no wilting or spoilage of the leaves at the tip or the base. Avoid lettuce that is dull looking, yellowing or dried out or brown at the edges.
Store. Keep lettuce unwashed in a plastic bag in the refrigerator until you are ready to use it. Butter lettuce will keep for 3 to 4 days.
Prepare. Wash butter lettuce thoroughly just before you are ready to use it. Do not soak lettuce in water as the water will soften the leaves. After you wash lettuce, spin or drain it completely or blot the leaves with a paper towel to remove any excess moisture.
Nutrition. Lettuce is low in calories, rich in calcium, iron, vitamins A and C.
Green-leaved butter lettuce is also called Boston or Bibb lettuce. These two are distinct cultivars. Boston lettuce leaves are wider and lighter green than Bibb lettuce. Bibb lettuce was named for John Bibb, a lettuce grower who lived in Kentucky in the mid-nineteenth century.