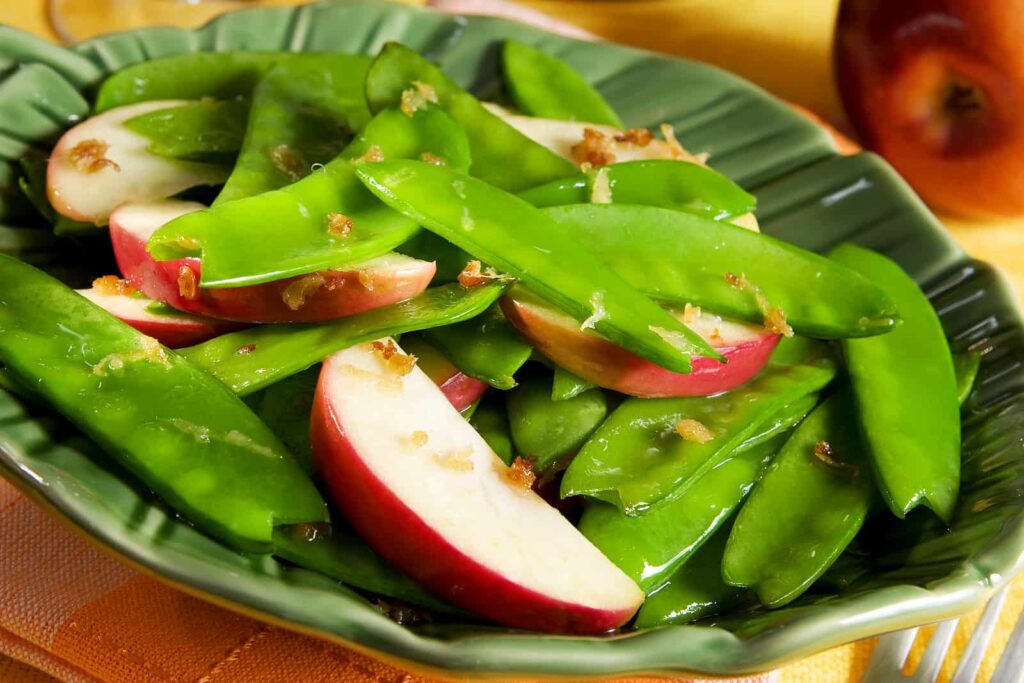 A refreshing, fruity balance of sour and sweet, apple slices are versatile—and widely matched for flavor.
Sweeter varieties such as Fuji and Gala are right for desserts—match them with cream, ice cream, and honey; tart varieties such as Braeburn and Granny Smith are suited to dark greens such as spinach and arugula and sharp cheeses.
Taste apple slices for their flavor notes—spicy like nutmeg and anise, dairy like butter and cream and cheese, and nutty (especially near the core) like almond. Tasting for flavor will help you match raw apples with suitable flavor partners.
Selecting apples for eating raw. A fully ripe apple will be heavy and firm with a vibrant color and fresh aroma. Heavier apples contain more moisture and are less likely to have a mealy texture; ripe apples will be vibrant red—yellow and green apples are best with a slight blush; a just ripe apple will smell fresh and rich—not overly fruity.
Best apples for eating raw:
Red Delicious: crisp, juicy, and sweet flesh with a thin but tough skin.
Fuji: crisp and sweet, a green-red fruit.
Gala: sweet, orange-yellow fruit.
Golden Delicious: not too sweet, not too tart, a golden yellow, freckled fruit.
Granny Smith: brisk and tart and bright green fruit.
McIntosh: very juicy and slightly tart red-green fruit.
Jonathan: sweet, slightly acidic, vibrant red with yellow undertones.
Pippin: crisp, slightly tart, large greenish-yellow with red blush.
Braeburn: blends sweet and tart, red hue over a yellow skin.
Preparing apple slices. Rinse apples under cold running water. Cut apples in half then cut each half in half again and pare out the core. Slice each quarter to the thickness you desire. Once apples are cut the enzymes in the flesh will begin to oxidize and turn them brown. To keep apple slices from turning brown, place them in a lemon and water solution as you cut them (for every two cups of water, add two tablespoons of lemon.)
Serving apple slices in a salad. Serve apple slices raw with the flavor match you choose. To create an apple-slice based salad bind the apple slices and other ingredients with a tablespoon or two of mayonnaise or apple cider vinaigrette or yogurt—just enough to lightly coat the mix. Try this: thin apple slices with torn spinach leaves, chopped walnuts, and raisins lightly tossed with low-fat yogurt and a dab of honey.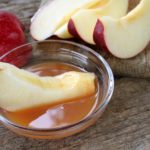 Sliced apple flavor matches:
apples + arugula
apples + bananas
apples + bacon
apples + blueberries
apples + cantaloupe
apples + caramel
apples + carrots
apples + cheese – slivers of Brie or Camembert
apples + hard cheese—a wedge of Cheddar or Stiltin
apples + cinnamon
apples + cottage cheese
apples + granola
apples + honey
apples (tart) + horseradish
apples (tart) + mangoes
apples + maple syrup
apples + oatmeal
apples + pears
apples + peanuts
apples + oranges
apples + peanut butter
apples + pineapples
apples + spinach
apples + brown sugar
apples + yogurt
apples + almond butter + cinnamon
apples + celery + walnuts (bind with a tablespoon of mayonnaise)
apples + caramel+ slivered almonds
apples + caramel + peanuts
apples + caramel + pecans
apples + cream + ginger
apples + ginger + hazelnuts
apples + kiwi slices + strawberries
apples + apricots + pine nuts
apples + raisins + rum
apples + snow peas + apple cider vinaigrette
apples + red cabbage + cinnamon
apples + almonds + crème fraîche + raisins
apples + brown sugar + creams + walnuts
apples + caramel + pistachios + vanilla ice cream
apples + cabbage + orange + pineapple