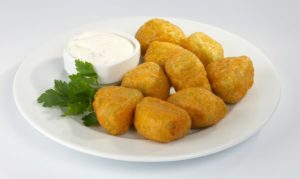 Let turnips surprise you. They may not be wildly popular but they can be tasty.
Here are a few suggestions for serving turnips:
• Serve slices of raw young turnips with olives and cherry tomatoes to make a simple appetizer.
• Shave raw turnips, crisp them in iced water, sprinkle with salt, and serve as you would radishes on an appetizer tray.
• Thin slice turnips and serve like chips with dip.
• Grate raw turnips with cabbage, carrots, and onion and toss with mustard vinaigrette.
• Cook small turnips and their greens separately until tender then serve with crumbled bacon on top.
• Bake young turnips with grated cheese or served with a cream or Mornay sauce.
• Stir-fry shredded turnips with scallions and other vegetables.
• Mash cooked turnips like you would potatoes; serve like potatoes or mash them with potatoes.
• For scalloped turnips: layer thin turnip slices with sliced onion; place butter on each layer and sprinkle with flour and salt. Pour in a cup of beef broth and bake for 90 minutes at 350°F.
• Dice raw turnips into ¼-inch cubes; cook in a heavy saucepan with tight-fitting cover for 10 to 15 minutes until tender cooking in butter and water—2 tablespoons of butter and 4 or water to 2 cups of diced turnips. Salt and add sugar to smooth any bitter taste.
• For creamed turnips, follow the steps above with the further step of adding cream blended with a little flour and a sprinkling of chopped chives and parsley.
• Serve creamed or sour-creamed turnips with chopped beef, steak, baked ham, or roasted turkey.