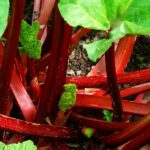 Plant rhubarb in late winter or early spring. Rhubarb is a perennial so choose a spot where it can grow and thrive for up to 10 years.
Three or four root crowns will produce all of the rhubarb you can eat. Bare-root rhubarb rhizomes are most readily available for sale in nurseries in late winter and early spring.
If you have rhubarb in the garden and want to divide the roots to create new plants, early spring is the time to divide existing plants—before new growth begins. Rhubarb is easy to divide, just put a spade in the middle of the plant and dig up half the root.
Red-stemmed Victoria is one of the most popular rhubarb varieties. It can grow to 4 feet tall and wide, so give it some room. Green-stemmed MacDonald is smaller but still a great choice for pies and canning.
Read more at: How to Grow Rhubarb
More about Rhubarb at: Rhubarb: Kitchen Basics
Click Here to Get Daily Growing Updates at Harvest to Table on Twitter.