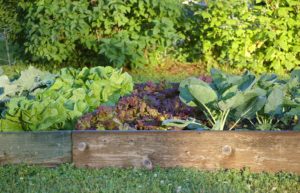 The best way to plan your kitchen garden is to give some thought to what you eat or would like to eat and how much. Note all of the fruits and vegetables that you bring to the table or pack for lunch. These fruits and vegetables can become the starter crops for your kitchen garden.
Keep a food diary. When you start to keep a record of what you and the people in your household eat, you will begin to have an idea of exactly how large your kitchen garden should be. How many head of lettuce do you or your family eat in a week or a month? How many carrots or onions? How many beans or squash? How many potatoes or tomatoes? How many pumpkins do you eat in a year? And while you're making this list, don't forget to count the vegetables in that can of soup you opened at lunch. In a few months that vegetable soup could be fresh from your kitchen garden.
Check the frig. If keeping a food diary for a week or two sounds like too much work, try this: open your refrigerator and look at the fruits and vegetables inside. Treat them like crop census. There's a head of lettuce and three tomatoes, a bag of beans and a zucchini. On the kitchen counter two apples and a couple of oranges. All of this for a week's eating. Now you can do some simple multiplication to determine how many of these plants you will need in your kitchen garden.
Keep it small to start. In all likelihood, your kitchen garden will be much smaller than you first imagined. If the last time you planted a vegetable garden you ended up with bushels of uneaten zucchini, then this time out you need to plant fewer summer squash. Of course, that means less time in the garden and more time at the table enjoying your crops. A kitchen garden is very doable.
A kitchen garden just 4 feet by 4 feet will be large enough to bring enough produce to your table for an entire summer: one head of cabbage, one head of broccoli, one head of cauliflower, 16 heads of lettuce, five pounds of sugar peas, eight bunches of chard, nine bunches of spinach, 32 carrots, 16 beets plus beet greens, and 32 radishes. In a garden small enough to reach your arm half way across, you can grow enough food to keep your salad plate and vegetable soup pot full through most of the year.
It can be small: just a few pots of herbs or salad vegetables. It can be a bed or two dedicated to the diversity of fruits and vegetables you eat every week or the food you like to give away to friends and neighbors. Your kitchen garden can be a converted flower bed bordering a fence or a hedge. Your kitchen garden can be a few edible flowers mixed with salad greens surrounding a fruit tree at the edge of the patio. Your kitchen garden can be a small raised bed with a comfortable bench right under your kitchen window.
Your kitchen garden will give you fresh and flavorful fruits, vegetables, herbs, and edible flowers. It will offer you ingredients at the peak of ripeness to be enjoyed minutes after harvest or first thing tomorrow. The kitchen garden will give you fruits and vegetables when they are the most tasty.
Your kitchen garden should be close to your kitchen. It is a garden for the kitchen.
More planning tips. In addition to starting your vegetable and fruit diary, here are a few more tips to think about as you plan your kitchen garden:
• Growing vegetables require full sun for at least six hours each day.
• Sow or plant each vegetable during the appropriate season when the temperature is right for that crop.
• Vegetables grow best in soil that is deep, level, and well drained.
• Soil is your kitchen garden's most important asset. Your soil can be improved.
• Plant vegetables the right distance apart and you can avoid weeding and keep watering to a minimum.
• Harvest vegetables when they are ready, at their peak, and you will enjoy flavors that are memorable!
Kitchen garden facts and trivia. Kitchen gardens have been around for a very long time. The first kitchen gardens were enclosed in small walled spaces protected from wildlife and blowing desert winds. During the Middle Ages, monks developed kitchen gardens designed in four squares often with a spring or a fountain at the center. Each square was set apart by a permanent path. The growing beds were often slightly elevated to capture the warmth of the sun.
During the eighteenth and nineteenth centuries, the French turned the kitchen garden into a near art form. Beds were designed in geometric patterns and formally edged with evergreens. Arbors, pergolas, and trellises were used to espalier and cordon fruits. Edible flowers were introduced for color. The French used the term "potager" to describe the kitchen garden. While design was an essential to the potager, the core of the potager was the very definition of the word. A "potage" is an herb or vegetable that goes into the pot on the kitchen stove.
Thomas Jefferson was one of the first American kitchen gardeners, so was George Washington. Today there are still kitchen gardens at Monticello and Mount Vernon. They are distinguished from surrounding farm fields by their diversity. A kitchen garden offers a range of fruits and vegetables and herbs. The kitchen garden offers crops that can sustain a kitchen and the people it feeds. A kitchen garden is not a field filled with just one crop. The kitchen garden is variety, not monoculture.