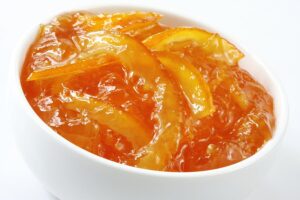 The season for making orange marmalade is winter through early spring.
Orange marmalade is a jam like preserve that contains chunks of orange and slivers of orange rind.
Preserves, conserves, jam, and marmalades are made when chunks of fruit are simmered and thickened with sugar and then stored in airtight containers.
The first marmalades were made from quince. The Portuguese word marmelo means quince. The Portuguese word marmelada means quince jam.
The first orange marmalade was made in Scotland in 1790.
Seville oranges are the most popular fruit for making orange marmalade.
Marmalade is delicious with toast.
Three-Day Orange Marmalade
Ingedients
12 oranges
6 lemons
3 grapefruit
sugar
Directions
1. Wash and slice the fruit as thin as possible, discarding all of the seeds.
2. For each quart of fruit and juice, add 2 quarts cool water and let stand overnight.
3. Next day, bring to the boil and cook for 2 hours, then let stand again overnight.
4. Next day, measure and add ¾ cup sugar for each cup of fruit and juice and boil until thick (about 2 hours).
Pour into hot sterilized jars, seal with hot wax and protect with jar covers.