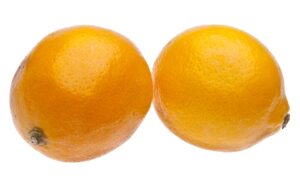 The Meyer lemon is a cross between a lemon and a tangerine. Its sweet taste—lemon with a hint of its parent tangerine–has made it a favorite of cooks and gourmets. In fact, some chefs call the Meyer "the gourmet lemon."
Meyers are more round and have a softer, more smooth rind than the bigger, commercial lemons—such as the Eureka and Lisbon. The pulp of the Meyer is deep yellow and it is less acidity than its sisters.
The Meyer takes its name from the American plant explorer Frank Meyer who discovered this lemon near Peking in 1908. By the way, the blossoms of a Meyer will fill a room with a wonderful sweet fragrance for days.
Choose. A ripe Meyer lemon will have a rich orange-yellow skin when ripe. Choose a bright, shiny fruit that is fat for its size.
Serve. Take your best lemon tart recipe and use Meyer lemons.
Also of interest: 
Eureka Lemon and Lisbon Lemon: Kitchen Basics
Sweet Meyer Lemon: Kitchen Basics