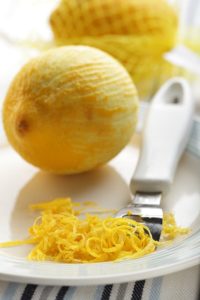 Lemon zest is the yellow part of the lemon rind. (Zest can be taken from the rind of any citrus.)
The aromatic oils in the zest of a lemon—and other citrus–are the strongest just after zesting. So remove the zest just before using if you can. (Zest will keep in the freezer for up to 6 months.)
Zest can be used to flavor raw or cooked sweet or savory dishes.
The finer the zest is grated the more flavor the zest will release.
To remove zest without pith use a zester or a grater or strip off the zest with a potato peeler and shred fine with a knife.
Remove the zest before squeezing the juice otherwise juicing will be difficult.
To avoid any bitter taste, be sure to remove only the outer yellow skin, not the white pith below.
One medium lemon will yield 2 to 3 teaspoons of zest.