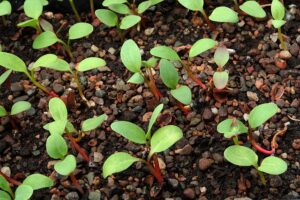 Seeds sown in warm soil and hot late summer weather can have a difficult time germinating. Moistening the seed bed and protecting seed from hot weather can ensure germination.
Here are some simple steps to increase seed sowing success: (1) moisten the seed bed with a sprinkle of water; (2) sow seed; (3) cover the seed with a light soil mix; (4) again moisten the soil mix cover with a sprinkle of water; (5) press the soil cover lightly with a flat board to ensure the seed comes in full contact with the moist soil—above and below (soil contact and moisture ensure the seed shell breaks down and germinates).
A light mulch or covering of grass clippings, straw, burlap, or damp newspaper placed over the seed bed will help ensure the soil stays moist until germination, particularly during hot, dry weather.
Check beneath the mulch or covering each day then remove the mulch or covering the day seedlings begin to show above the soil. Continue to keep the soil just moist until new plants are well rooted and not dependent upon surface moisture–this may take a week or two if the weather is hot.
To slow soil moisture evaporation and protect young seedlings from hot days you may want to place stakes at the corners of the planting bed and drape shade cloth over the stakes.
The alternative to starting seed in seed beds–outdoor planting beds–is to start seed indoors. Indoor started seedlings can be planted out into the garden after the heat eases. It may be much easier to keep your seed starting medium evenly moist indoors than out in hot weather.