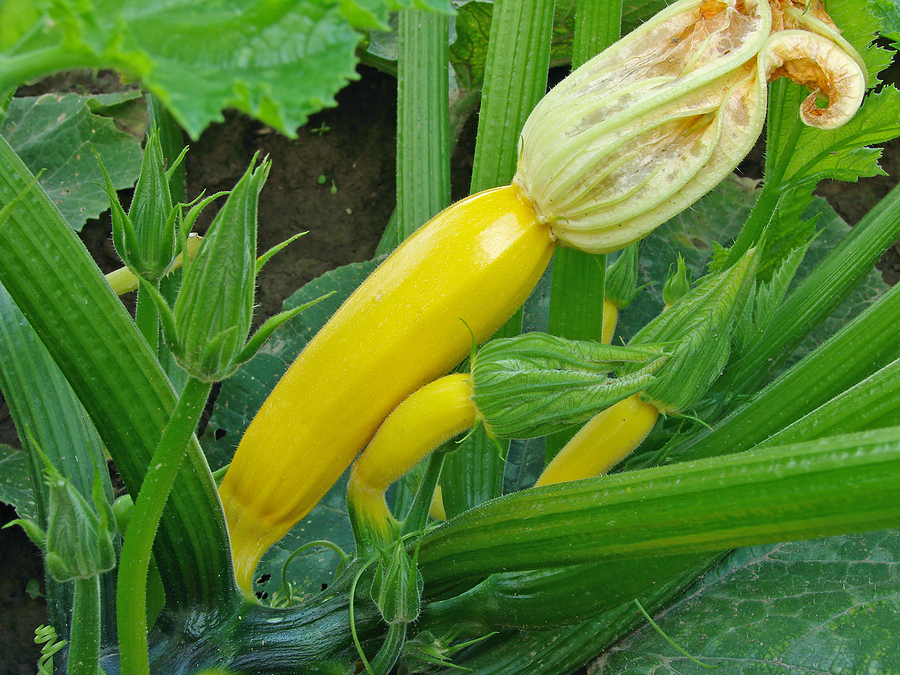 June is the month the vegetable, herb, and fruit gardens pick up steam. Spring comes to a close in June and summer begins. Complete your spring planting in early June. By the end of the month, the soil and air will be sufficiently warm for plant growth to accelerate and begin growth toward harvest. (Of course, in the Southern Hemisphere, winter arrives this month and gardens are resting.)
Make sure your garden calendar is up to date now. Planting dates should be entered and harvest dates marked. If you live where summer is long, plan your second planting of summer crops now; next month those "succession" crops will be set out. If you live where summer is short, now is the time to think about crops for autumn and winter harvest. You will want to get those seeds started by the end of the month.
Here's a roundup of helpful articles to get your summer garden growing at full tilt. Happy Gardening!
June is the month to get heat-loving crops–zucchini, summer squashes, cucumbers, and melons–growing in the garden. Plant these crops on hills–the soil stays warmer. Work a spadeful of compost or well-rotted manure into each hill. Don't let tomatoes, peppers, eggplants, melons, zucchini, squashes, or cucumbers go dry, keep the soil moist for quick and even growth which is essential for flavorful fruits at harvest. Read more>>>
It's pepper time. Peppers are most easily grown from transplants. They demand warm temperatures and even, regular watering. Prepare each planting spot with plenty of aged compost or commercial organic planting mix. Make sure peppers get at least eight hours of direct sun each day and protect peppers from chilly nights. Peppers will reach harvest in 60 to 95 days form transplanting. Mark your calendar! Read more>>>
Flavor is the best reason to grow tomatoes in the home vegetable garden. (You can always find tomatoes without much flavor at the grocery store.) Choose flavor first when deciding which tomatoes to grow. Next, decide, how you will use the tomatoes. Here's a list of the most flavorful tomatoes for each of the 5S's–salads, soups, sauces, salsa, and sandwiches. Read more>>>
Melons, squash, and cucumbers grow best when both the soil and air temperature is at least 70°F (21°C); sow seed directly in the ground 2 weeks or after the last frost. Expect germination in 3 to 10 days, depending on the soil temperature. (The higher the temperature the faster the seed will sprout.) Read more>>>
Think you don't have enough space or time to grow watermelons? Large watermelons require 4 months of frost-free, constantly warm weather to come to harvest; they can gobble up as much as 144 square feet of space. But if you have less than 90 growing days and a small garden, you can still grow and harvest watermelons. Here's a guide to the best watermelons to grow in a small garden in a short amount of time. Read more>>>
When to water? To know when your garden needs water, feel the soil, and look at the plants. Stick your finger in the soil. If it comes away dry, it's time to water. When plants wilt and look droopy in the morning, it's time to water. Here is a crop-by-crop guide to critical times for vegetable watering. Consistent, even soil moisture is key for vegetable garden success. Read more>>>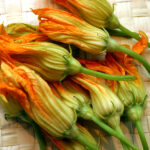 You can prepare, sauté or deep fry, and serve squash blossoms in 10 minutes or less. Squash blossoms—yellow-orange and delightfully bright–are a summer delicacy; they must be picked, cooked, and served on the same day. If you have more zucchini or other summer squash than you can eat, store, or give away, pick and serve squash blossoms—they have a subtle squash flavor and will give you a tasty relief from the bounty of summer squash on the vine. Read more>>>
Classic pesto is made with fresh basil, Parmesan cheese, walnuts, olive oil, lemon, garlic, and salt. Pesto is the traditional pasta sauce. Pesto is a flavorful addition to grilled vegetables, grilled chicken, salads, sliced tomatoes, pizza, bean and vegetable soup, and as a vegetable dip. Here's your guide to making classic pesto. Read more>>>

Old-Fashioned Garden Wisdom
"The love of gardening is a seed once sown that never dies."— Gertrude Jekyll