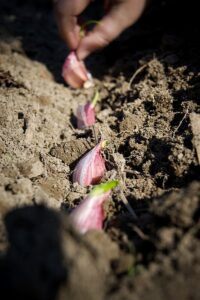 Best Times to Plant Garlic
• Plant garlic in late summer or fall and allow it to overwinter for a harvest of large bulbs next summer. Plant garlic in the spring and harvest it in the fa ll for smaller bulbs (and usually a small yield).
• Late summer or fall planted garlic should be in the ground about a month or so before the soil freezes. In warm-winter regions, garlic can be planted in early winter.
• Elephant garlic—a very large cultivar and mild flavored—should be planted in late summer allowing time for it to make root growth before cold weather comes.
Protect fall planted garlic with mulch—a thick layer of straw or leaves—to protect bulbs from freezing or heaving ground. Be sure to mulch the garlic bed before the ground freezes. If you live in a very cold winter region, no amount of mulch may protect bulbs so it may be best to plant in spring as soon as the soil can be worked.
Choose large cloves for planting in fall to produce large bulbs next summer. Small cloves can be planted in spring to grow green garlic for summer harvest.
Garlic Planting. Break a garlic bulb into individual cloves; plant individual cloves with the points facing up—blunt end down. Grow garlic in compost rich soil in full sun. Set cloves 4 to 6 inches apart and push cloves 2 inches beneath the soil surface.
Temperature. Garlic germinates in soil temperature of 55°F and grows best in soil temperatures ranging from 55°F to 75°F (13-24°C). Garlic that has established roots will overwinter best.
Mulch. Leave winter mulch in place until spring when daffodils break the soil, then pull mulch back from the garlic bed and spread aged compost across the bed. Thick compost will protect the soil around garlic from drying, or reapply the mulch.
Spring flowers. Garlic will send up a center stalk in spring and a flower bud will develop; snip off the bud to redirect the plant's energy from producing seed to producing a larger-sized bulb.
Feeding and Watering Garlic. Encourage leafy growth by applying a foliar seaweed or fish emulsion spray every two weeks beginning in spring. Keep the soil evenly moist from spring through early summer for best bulb formation; letting the growing bed go dry will hinder bulb development. Keep weeds out of the garden; they will rob garlic of soil moisture and nutrients.
Garlic Harvest. Garlic is ready for harvest when leaves turn brown and begin to die back. Lift bulbs with a garden fork and let them cure in a hot, dry, dark and airy place for a few weeks.
Types of Garlic to Grow:
• Hardneck or rocambole type garlic grows best in cold-winter regions and produces larger bulbs than softneck types. Hardneck bulbs are strong flavored but do not store well. Reliable hardneck varieties include: German Red, Spanish Roja, German Extra Hardy, and Russian Red.
• Softneck or artichoke type garlic produce several layers of small cloves and store well for winter use. Reliable softneck varieties include: California Late, Early Italian Red, and New York White.
• Elephant garlic produces very large cloves and is milder tasting than other varieties.
More tips: How to Grow Garlic.