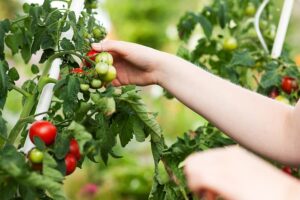 Most home garden vegetable crops should be harvested and used as soon as they are just large enough. A common home garden mistake is waiting too long to pick and eat vegetables.
Don't wait until your vegetables look like the ones you would buy in the market. Market growers let crops reach a certain size because that's what the market demands.
Your crops will be tender and tasty long before they reach market size.
Guide to "first pickings"–early harvest times:
Bush beans. Beans are ready to pick much sooner than you expect. Check pods regularly; they will be ready to eat when just a few inches long.
Cabbage. The first cabbages may be used before the head have become solid.
Cauliflower. Tie leaves over the head as soon as heads begins to form; use them before heads show the first sign of breaking.
Carrots. Carrots are ready as soon as they are a half-inch in diameter. Take early carrots as soon as they reach size, which will leave more room for the others to grow.
Chard. Cut outside leaves from chard every few days. If you let chard go too long, use the large mid-ribs for stewing.
Corn. Once corn is firm pluck it from the garden.
Cucumber. It will be difficult to stay ahead of production once the first two or three pickings are in, but you must keep them picked if you want vines to keep producing.
Kohlrabi. Harvest kohlrabi as soon as it reaches two or three inches in diameter. It will deteriorate rapidly after that.
Lettuce. Pick lettuce early and often to prevent plants from bolting and going to seed.
Peas. Peas should be harvested as soon as they are large enough for shelling.
Radishes. Take radishes out of the garden as soon as they are large enough to wash.
Summer squash. Pick summer squash before shells begin to harden.
Tomatoes. You can pick tomatoes as soon as they begin to color up; place them on the kitchen counter to ripen.
Turnips. Use turnips as soon as they are large enough to peel and cook.