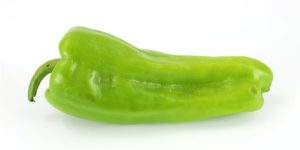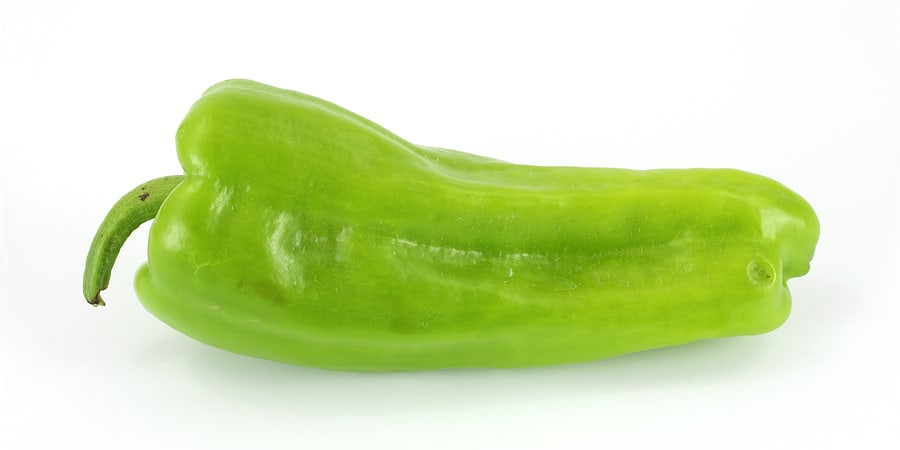 The cubanelle sweet pepper is tasty lightly roasted and served on a summer sandwich or green salad.
Core and seed three or four of the long tapered cubanelles and place them on the grill or about five inches below the oven broiler element and cook until the skins blister and char on each side, about 10 minutes per side. Next, place the peppers in a large sheet of aluminum foil and leave until they are no longer hot; now, you slice and remove the ribs and seeds and peel the skins away and arrange these colorful peppers to their best effect.
(Tasty tip: an hour before roasting, place the peppers in a glass bowl with a couple of tablespoons of olive oil, 3 or 4 sprigs of thyme, and salt and pepper to taste. Turn the peppers every 15 minutes so they will be evenly coated with oil.)
Ok, if that sounds like too much work, the mild and colorful cubanelle can be sliced raw right onto a green salad and topped with vinaigrette. Or slice up some cubanelles to add to fresh salsa.
Cubanelles are mild to spicy, less so with cooking. You'll find the flavor of the cubanelle akin to the popular Anaheim sweet pepper. Cubanelles range in color from green to yellow to red. A red cubanelle is a ripe pepper but not necessarily more spicy than a green cubanelle. When it comes to hot, be assured the Cubanelle barely rate on the Scoville unit pepper heat meter.
Cubanelles are also known as Italian frying peppers. They are popular in Italy added to casseroles and pizzas.
Cubanelles can be stuffed after roasting whole, without coring and seeding before hand: follow the roasting directions above, slice and seed the peppers after roasting and then lightly stuff with a mix of goat cheese, fresh crused garlic to taste, olive oil and a bit of fresh minced thyme. Once the cheese mix is added to the sliced pepperes, reheat them in the oven or on the grill for a few minutes.