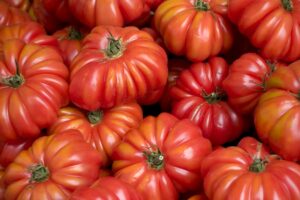 Costoluto Genovese is a large, juicy Italian heirloom tomato with an acidic-tart full-tomato flavor well suited for slicing and serving fresh or cooking.
Costoluto Genovese has been a Mediterranean favorite since at least the early eighteenth century. The key to this mid-season beefsteak's rich tomato flavor is heat. Grown away from the dry, sun-drenched gardens of the Mediterranean this tomato might disappoint.
Mid-season tomatoes such as Costoluto Genovese are ready for harvest mid summer. Late-season tomatoes demand 80 or more days to mature; mid-season tomatoes reach their peak at about 70 days and sometimes earlier.
Costoluto Genovese is heavily lobed, even scalloped. In profile this tomato appears flattened and fluted to the point of convoluted. Appearances needn't be off putting; Costoluto Genovese slices nicely at its scallops and is perfect for adding to fresh vegetable plates. Of course, like any other beefsteak this tomato is very meaty and can be sliced across to make a tasty tomato and basil sandwich.
In Italy Costoluto Genovese is a favorite for pasta sauces and pastes; for these, remove the this tomato's medium-thick skin. Of course, the skin makes Costoluto Genovese a good choice for broiling and grilling. And if this prolific, indeterminate producer delivers more than you can keep up with, juicing is an excellent alternative for Costoluto Genovese.
Some people won't hear about adding beefsteak tomatoes to mixed salads; they say sliced, cut tomatoes weep, dilute the dressing, and make the salad soggy. Well, the solution is quite simple: simply let the slices or wedges drain well on a paper towel. No formality should deny you one of the tastiest pleasures of summer.
The rich, sharp flavor of Parmesan cheese is a good match for almost every tomato, no exception is the Costoluto Genovese. Freshly grated Parmesan, complex-flavored and granular–grana, as they say in Italy–is a fine match for this broiled Costoluto Genovese recipe.