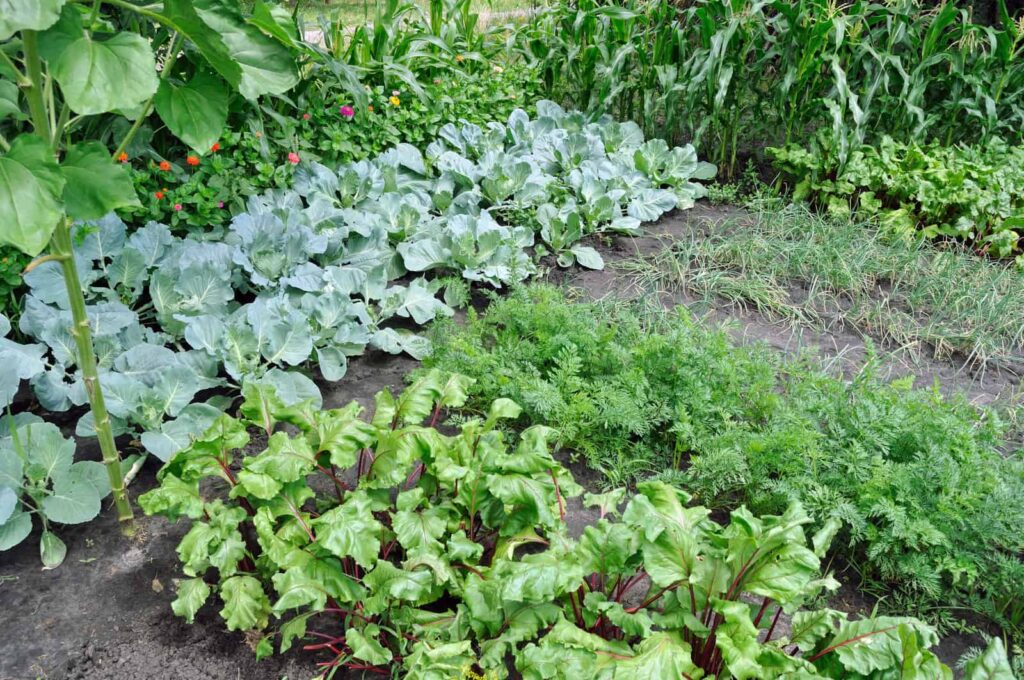 Cool-season vegetable varieties are legion. Check with neighbors and friends to see which varieties they've had success with. After a season or two, you will find personal favorites.
Here are several varieties for autumn, winter, and spring planting. If you are growing in a cold frame, you can get any of these started between late autumn and early spring.
Cool-season vegetable varieties
Artichoke:

Green Globe, Imperial Star; plant Dec-Apr (crown or plants).

Asparagus

: Mary Washington, UC 157, UC 72 (seed or crown); plant Sept-Feb (crowns).

Beet

: Albina Vereduna, Chioggia, Cylindra, Detroit Dark Red, Golden; plant Feb-Aug (seed).

Broccoli

: Arcadia, De Cicco, Emperor, Green Comet, Green Goliath, Minaret, Packman, Premium Crop, Waltham29; plant Feb-Mar, Jul-Aug (seed) Aug-Sept (transplants).

Brussels sprouts

: Jade Cross; Feb or July (seed).

Cabbage

: Copenhagen Market, Earliana, Early Jersey Wakefield, Golden Acre, Red Rookie, Ruby Hall Hybrid, Savoy King; plant Feb-Apr, Jul-Aug (seed), Sept (transplant).

Carrots

: Chantenay, Danvers, Little Finger, Minicor, Nantes, Paris Market, Thumbelina; plant Apr-May, Sept (seed).

Cauliflower

: Cheddar, Early Snowball, Graffiti, Panther, Romanesco, Snow Crown; plant Feb-Mar, Jul-Aug (seed), Sept (transplant).
Chard: Argentata, Bright Lights, Fordhook Giant, French White, Italian Silver Rib, Rhubarb Chard; plant year-round (seed or transplants).

Collards

: Blue Max, Georgia, Vates; plant Mar, Sept-Oct.
Garlic

:

Burgundy, California Early, CaliforniaLate, Georgia Crystal, Inchelium Red, Rosewood, Susanville; plant Oct-Nov (cloves).

Kale

: Curled, Dwarf Blue, Vates; plant Feb, Sept-Oct.
Kohlrabi

:

Early Purple Vienna, Grand Duke, Kohlibri, White Vienna; plant Feb-Apr, Aug-Sept (seed).
Lettuce: Black-seeded Simpson, Brune d'Hiver, Canasta, Capitaine, Esmeralda, Jericho, Loma, Marvel of Four Seasons, Merlot, Nancy, Nevada, Oakleaf, Prizehead, Red Ridinghood, Salad Bowl, Sangria, Red Sails, Sierra; plant Feb-Mar, Aug-Sept (seed), Oct (transplant).

Mache

(corn salad): plant Oct (seed).

Mustard

: Florida Broadleaf, Mizuna, Red Giant, Savannah, Southern Giant Curled, Tender Green; plant Feb-Mar, Aug-Sept (seed), Sept-Oct (transplant).

Onion

(bulbing): Early Yellow Globe, Fiesta, Granex types, Grano, Southport White Glove, Stockton Red, Sweet Sandwich, White Sweet Spanish, Yellow Sweet Spanish; plant Sept, Jan-Feb (seed).
Onion, green bunching : Southport White Globe, WhiteLisbon, White Sweet Spanish; plant Mar-Apr (sets).
Peas: English peas: Green Arrow, Little Marvel, Wanda; Shelling: Little Marvel, Maestro, Tall Telephone; Sugar Snap: Sugar Daddy, Sugar Mel, Super Sugar Snap; plant Jul-Sept (seed).

Potato

: Bintje, Caribe, Cobbler, Kennebec, Red Pontiac, Rose Finn Apple, YukonGold; plant Jan-Mar (seed potatoes).

Spinach

: America, Bloomsdale Longstanding, Giant Nobel, Melody, Oriental Giant, Tyee F1, Viroflay, New Zealand (summer substitute); plant Sept-Apr (seed).
Turnip, greens: All Top, Seven Top; plant Aug-Sept, Feb-Apr (seed).

Turnip, roots:

Amber Globe, De Milan, Purple Top, Scarlet Queen, Tokyo Hybrid, White Globe, White Lady; plant Aug-Sept, Feb-Apr (seed).