A cold frame can keep plants from 7° to 10ºF warmer than outdoors, sometimes as much as 20ºF warmer. Use a cold frame in spring to give seedlings a head start on the growing season and protect them from spring frosts. Use a cold frame in autumn to extend the summer and fall growing season into late autumn and winter.
What is a cold frame
A cold frame is a low-profile open-bottomed box that is placed over crops to act as a small greenhouse. Cold frames are heated by the sun. (A hotbed is similar to a cold frame but is usually heated by electric cables placed under the growing bed.)
The sides of a cold frame are often sunk into the ground to make the structure airtight. The backside of the cold frame is usually several inches taller than the front. The frame has sloping sides fitted with a slanting, transparent roof. The sloping sides and transparent roof are positioned to face toward the warm southern tracking winter sun.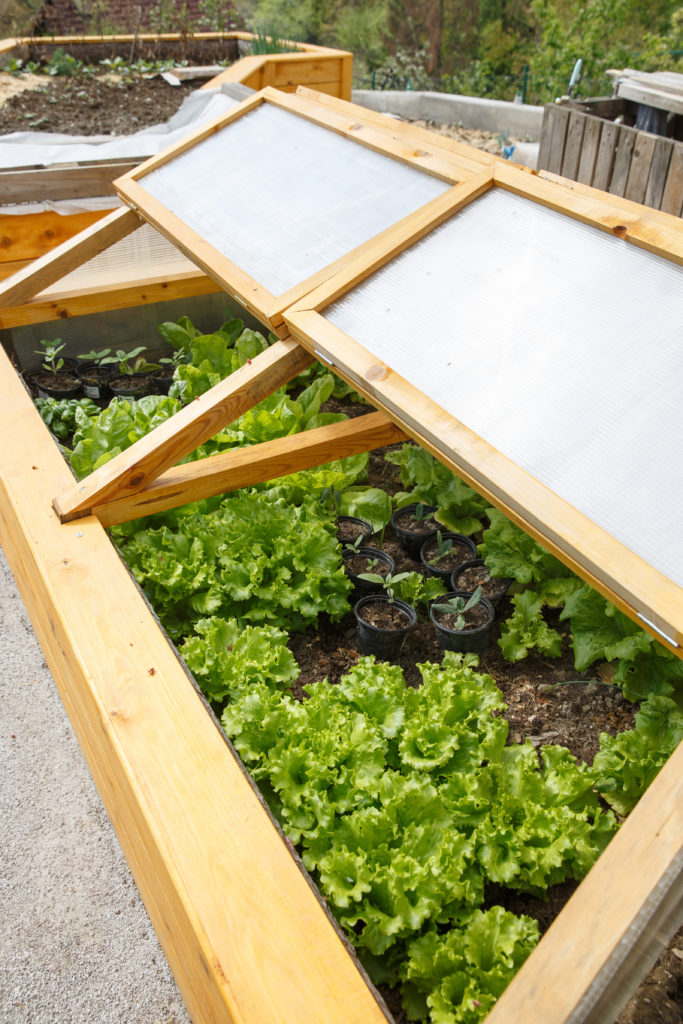 Cold frame site and construction
Cold frame site. Cold frames should be situated away from prevailing winds or protected by a fence or wall on the north side. They can be set on a slight slope so that water will drain away from them and they should be situated close to a hose bib for watering.
Cold frame construction. Cold frames are easily constructed: the sides can be made out of decay-resistant wood or concrete blocks and should be tall enough to clear the tallest plant you grow. The top or roof can be made out of glass, fiberglass, Plexiglas, or heavy clear plastic sheeting. The translucent top is usually framed and hinged to the larger box and fits snuggly to create a greenhouse effect. White paint on the inside of the frame will reflect additional light and heat into the box.
Cold frames can be large and permanent or easily assembled and disassembled and portable according to the season.
A portable cold frame can be set over an existing garden planting bed or a layer of 3 to 8 inches (7-20cm) of sand, garden soil, or planting mix can be placed in the frame for planting depending upon the crops.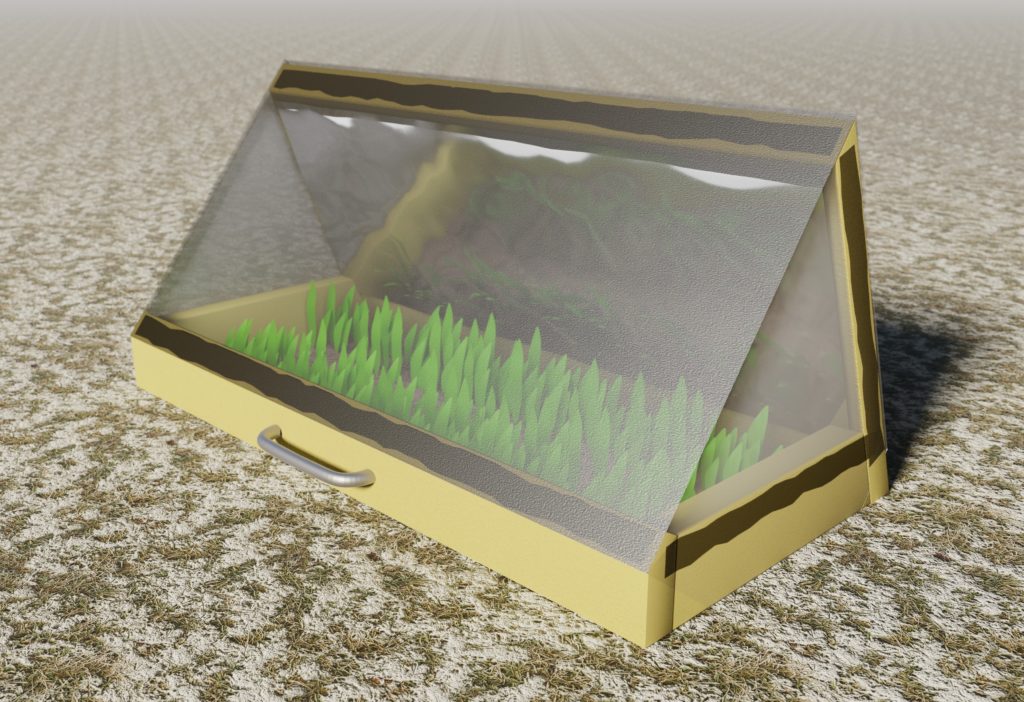 Cold frame temperature basics
Keeping the frame warm. A cold frame covered with canvas tarps, blankets, mats, straw, or a mix of manure and straw will keep most crops warm through the coldest winter. In hot weather, solar radiation to the frame can be reduced by shading the sash.
One age-old method of adding heat to the cold frame is to place it over a trench of fresh horse manure covered with sand or straw and a foot of garden soil for planting. (This will raise the temperature in the cold frame substantially and might easily be called a hotbed.)
Cold frame temperature. Heat can build up inside a cold frame on warm and sunny days. The cold frame should be equipped with a thermometer and the sash or roof should be opened to permit air circulation when the temperatures rise. The ideal autumn daytime temperature for a frame is 65ºF and the nighttime temperature 60ºF; in winter when plants have matured the daytime temperatures can range from the high 30s to the 40s and can dip lower at night. To prevent plants from becoming overheated, remove or open the lid to let air in, then close it again at night or if a freeze is expected.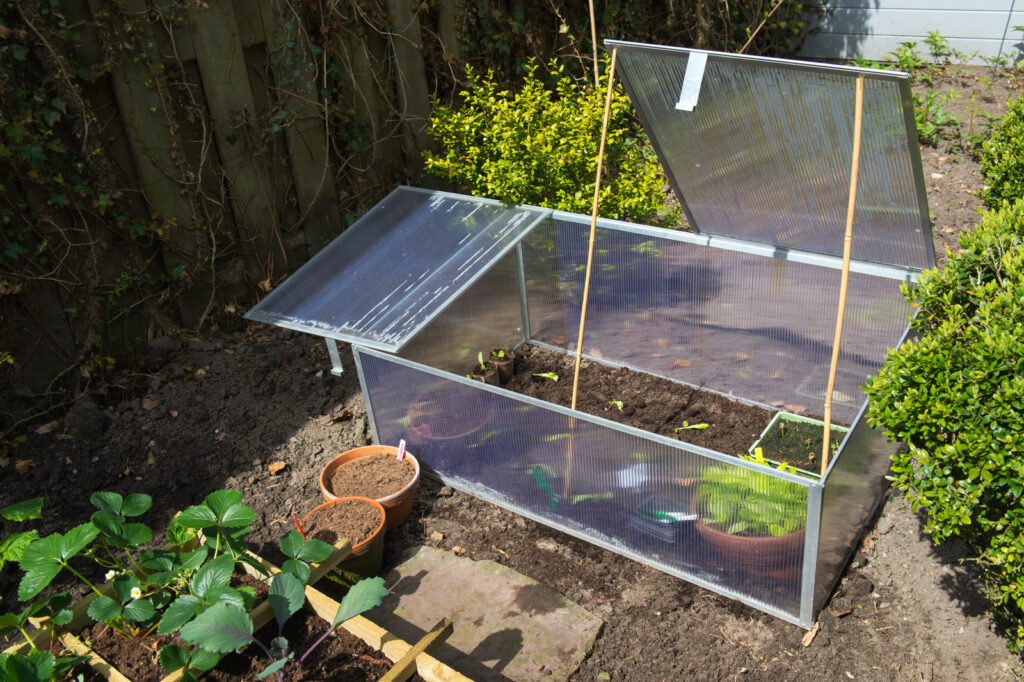 Crops for the cold frame
Autumn cold frame crops. Cold frame crops for growing in autumn for fall and winter consumption include arugula, chard, endive, escarole, Italian dandelion, lettuce, Mizuna, parsley, radish, scallion, and spinach.
Winter cold frame crops. Cold frame crops for winter and spring consumption include carrots, claytonia, Italian dandelion, kohlrabi, mache, parsley, radicchio, scallion, sorrel, and spinach.
Most cold frame crops for winter eating should be started in late summer and early autumn. These plants should reach nearly full growth before the first winter freezes or snow. They will then sit dormant but protected inside the cold frame during the winter but can still be harvested. (Most crops do not grow when the temperatures are consistently below 40ºF. That's why cold frame crops for harvest in winter should reach maturity before winter temperatures arrive.)
Cold frame crops for sowing in mid-winter include arugula, broccoli raab, carrots, claytonia, cress, endive, escarole, lettuce, mâche, Mizuna, onions, orach, parsley, peas, purslane, radicchio, radishes, and spinach.
Also of interest:
Cold Frame to Extend the Season
How to Prepare a Winter Vegetable Garden