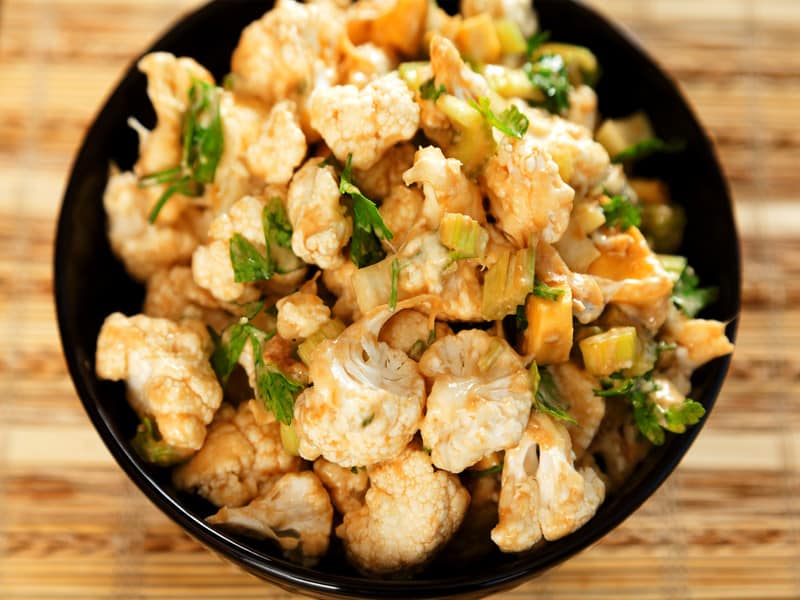 Cauliflower Salad
Boil or sauté-steam the cauliflower until just tender for best flavor. Then add your choice of chopped celery, grated carrot, thinly sliced green onions or red onions, sliced tomatoes, and top with chopped olives or parsley.
Instructions
Cut raw cauliflower florets into small pieces.
Chop celery or grate carrots for cooking with the cauliflower or adding raw later.
Boil or sauté-steam the cauliflower 3 to 4 minutes. Add the chopped celery or grated carrots to the cauliflower for the last half minute or minute of cooking. (Or you can add the celery or carrots raw just before serving.)
Immediately after cooking, shock the cauliflower florets and other vegetables in a bath of ice water. After cooking, the cauliflower should be slightly crunchy. Cooking cauliflower too long will leave it mushy and cabbagey smelling.
Drain the vegetables in a colander then transfer them to a bowl.
Drizzle the cauliflower with a couple of tablespoons of extra virgin olive oil and a couple of tablespoons of red wine vinegar, sprinkle with a bit of salt and add freshly ground pepper, then toss.
Serve at room temperature or set the bowl in the refrigerator for up to a day before serving.
Notes
Just before serving you can dress this salad up by sprinkling on pitted and coarsely chopped black olives or chopped parsley. Add sliced tomatoes and bread crumbs if you like.