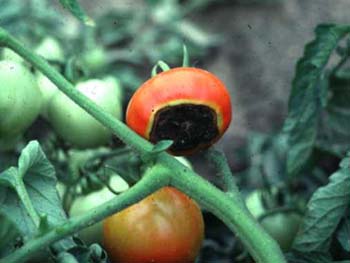 Blossom end rot is a black, sunken area at the blossom end of tomatoes or peppers. The blossom end is the end of the fruit opposite the stem. Blossom end rot is most often seen on green fruits, usually the first fruits to appear on the plant.
Blossom end rot is caused by calcium deficiency in the fruit. That deficiency can be caused by a lack of calcium in the soil or the plant's inability to draw up calcium from the soil–most often caused by a lack of water. Blossom end rot is aggravated by drought or uneven soil moisture. Soil moisture taken up by plant roots delivers calcium to plant cells or by the excessive application of fertilizer, usually nitrogen or potassium.
Keeping the soil evenly moist, not allowing it to dry out between watering, is the first step to controlling blossom end rot. As well, avoid cultivating too closely to plant roots; damaged roots may not take up water and, in turn, calcium from the soil.
The excessive application of nitrogen or potassium can alter soil chemistry and "lock up" calcium so that it is chemically not available to plant roots. Feeding tomatoes and peppers with compost tea is one of the best ways to make sure plants are well fed but not over-fertilized.
A soil test will tell you if the soil is calcium deficient. If that is the case, add agricultural lime to the soil.
Beside blossom end rot, calcium deficiency results in the die back of growing tips and scorching of new leaves. Calcium deficiency in cabbage and Brussels sprouts will cause internal leaves to brown, in carrots oval pits will form on roots, and in celery leaf growth is stunted.