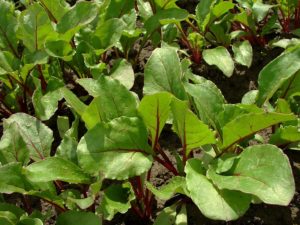 Beets roots can be eaten raw or cooked and added to salads and soups. Beet greens and thinnings can be eaten raw in salads or cooked much like spinach.
Beets Planting Calendar
The temperature during the 55 to 90 days it takes to grow beets should remain below 65ºF (18ºC).
Spring beet crop
Sow beet seeds as soon as the soil can be worked in spring, 2 to 3 weeks before the last frost. Beets will germinate in the soil as cool as 45ºF (7ºC) but will grow best in soil temperature of about 50ºF (10ºC). For successive crops, plant beets every 10 days. Young beet plants can tolerate frost but they will go to seed without making roots if the weather is too cold.
Autumn and winter beet crop
Beets can be planted in late summer for an autumn or winter crop. Depending upon variety allow 50 to 90 days for beets to mature before the first freeze. (Look on the seed packet for days to maturity and then count backward from the estimated first frost date in your area.) Where there is no freeze, plant beets in winter. Once autumn beets have matured, they can be left in the ground for winter harvest as long as the ground does not freeze. Beets can be grown in a cold frame or protected by a plastic tunnel.
Beet Planting Tips
Place. Beets will grow in full sun or light shade.
Soil to grow beets. Beets prefer well-worked, loose soil that is rich in organic matter. Remove from the planting bed stones and dirt clods or roots that might cause beetroots to become malformed. Work compost into the soil at planting time. Beets prefer alkaline soil over acidic soil, pH of 6.5 to 7.5.
Spacing beets. Sow beet seeds ½ to 1 inch deep in rows 12 to 18 inches apart. In wide beds or intensive plantings, thin beet seedlings to 3 to 4 inches apart. Beet seeds come in clusters. Each cluster is smaller than a pea seed and can produce several seedlings. Seeds generally germinate in 4 to 10 days. The seedlings may not emerge at the same time. Thin seedlings when the plants are a few inches tall and have developed their first true leaves. Seedlings do not transplant well. Thinned seedlings can be added to salads.
Container growing beets. Beetroots grow close to the soil surface so they can be grown in containers. Allow 3 to 4 inches between plants. Sow beets in a container at 8 inches deep. In a round container, sow the seeds in concentric circles.
Watering beets. Keep the soil around beets moist; do not allow the soil to dry out. Mulch will help keep the soil moist. In hot weather, beetroots can become woody. A lack of moisture will leave beets stringy and tough.
Feeding beets. Work compost into the soil before planting beets and side-dress beets with compost at mid-season.
Suggested varieties. Detroit Dark Red (52 days); Early Wonder (53 days); Burpee's Golden (55 days); ruby Queen (56 days); Little Ball (56 days); Cylindra as called Formanova or Tendersweet (60 days); Long Season also called Winter Keeper (80 days).
More tips at How to Grow Beets.