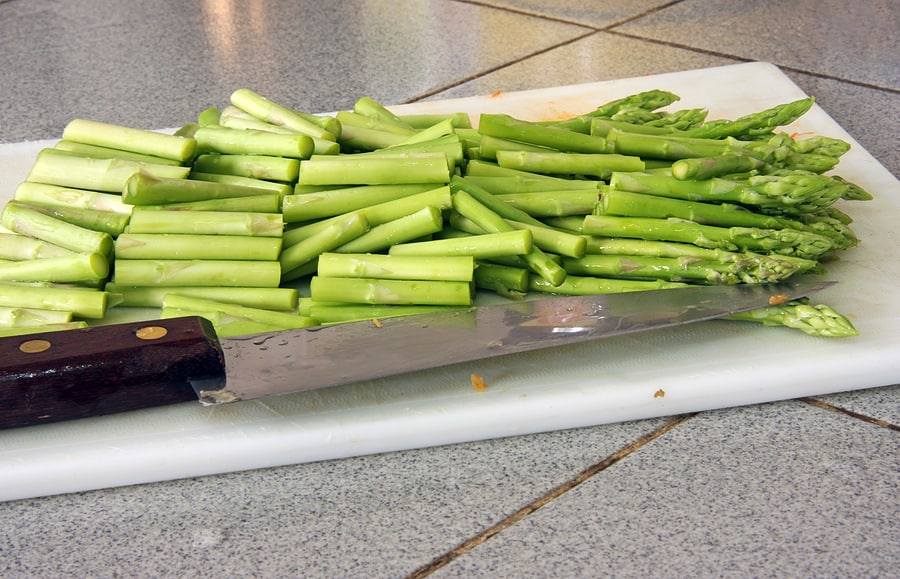 Fresh and quick, serve raw or cooked asparagus in salads or as a side dish during spring.
Cut fresh raw asparagus into one-inch lengths with the kitchen scissors. Then add them to the greens salad to add a bit of substance. Choose firm, plump, straight, round asparagus spears with tips that are tight and compact. Give the asparagus bunch a squeeze; if it squeaks, it's fresh.
Steam asparagus for a side dish. Place the asparagus in a vegetable steamer over simmering water and steam, covered, until crunchy tender, about 5 minutes. Remove the asparagus and run under cold water to stop further cooking. Place on a kitchen towel to drain.
Provençal Mayonnaise
Here is a recipe for Provençal mayonnaise to serve with the steamed asparagus. Prepare the mayonnaise in advance.
Ingredients
2 cups tightly packed fresh spinach leaves, cooked, squeezed, and chopped
3 tablespoons finely minced scallions
3-4 tablespoons finely minced fresh parsley
2 large cloves garlic, peeled and crushed
½ cup crème fraîche or sour cream
1 cup mayonnaise
juice of 1 large lemon
salt and pepper to taste
Instructions
Combine the spinach, scallions, parsley, garlic in a blender, add a little of the crème fraîche or sour cream and lemon juice and process until smooth. Season with salt and pepper and chill for 4 to 6 hours, or overnight.
Spoon this mayonnaise sauce over the asparagus and garnish with chives and sliced boiled eggs.
Serve lightly chilled.
Courses Side Dish